As we approach Earth Day on April 22, more than one billion people will participate in this historic event, making it the largest civic observance in the world. It's important to remember why we celebrate this day, and kicking off our "Sustainable Since" spotlights is Nancy Kavazanjian, Wisconsin farmer and U.S. Farmers and Ranchers Alliance Chairwoman, who's proud to commemorate former Wisconsin Senator Gaylord Nelson who founded Earth Day in 1970 as a "national day for the environment". This special day spurred the start of the modern environmental movement.
Growing up in suburban New York, Nancy always dreamed of being a farmer, and in 1980 she married Charles Hammer, a fourth-generation Wisconsin farmer. Charles' great grandparents Joseph and Francisca Hammer immigrated from Germany in 1866 and bought 173 acres in Beaver Dam, Wis. raising dairy cows and chickens. Today, Hammer and Kavazanjian Farms has evolved to grow more than 2,000 acres of corn and soybeans and celebrates its sesquicentennial (150thanniversary) in 2016.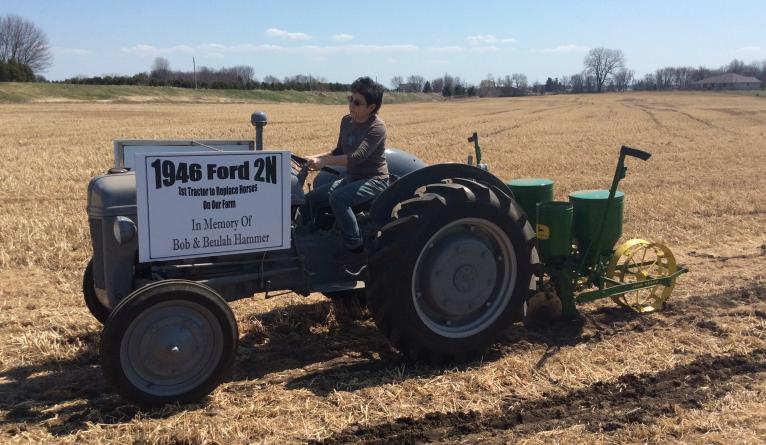 Being sustainable and preserving water, soil, air and habitat has always been of utmost importance to farmers and ranchers. In fact, in 1948 Nancy's father-in-law Paul Hammer was awarded for Outstanding Agricultural Performance with a corn yield of 104.5 bushels. Last year in 2015, Nancy's farm was awarded from the Wisconsin Corn Growers for 281.2 bushels, which is nearly triple the amount from the prior generation. Today's farmers are using less land to grow more food and employing technology that produces higher yields while conserving water, nutrients and energy.
To read the rest of this story, originally posted from the Food Dialogues, please click here.