Soy-Span 2021 live video has ended.
Time-lapse video and results coming soon!
Farmer: Doug Winter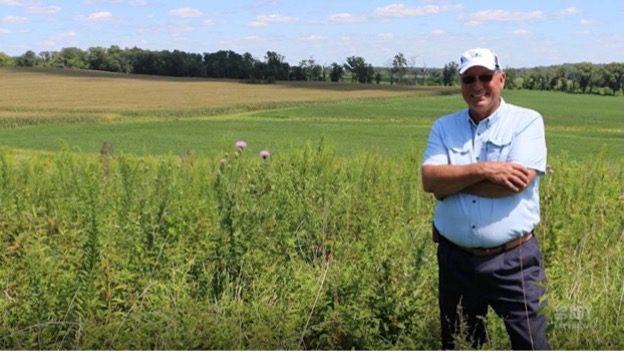 Field Stats
Ground View
Planted: May 18, 2021
Platform: Enlist | Trait: RR2
Size: 42 hectares (103 acres)
Previous crop: Milo (grain sorghum) cover crop. This field has been no-till for the past 13-14 years.
Habitat
Size: 5 hectares (12 acres) of Conservation Reserve Program (CRP) ground
Animals nest in residue and add organic matter to the soil. In fact, two young eagles have been nesting on this land for the past two years
Bird's Eye View
Planted: May 31, 2021
Platform: Enlist | Trait: RR2
Size: 100 hectares (246 acres)
Previous crop: cover crop (cereal rye)
Sustainable Farming Practices: These fields use best management practices like no-till/conservation tillage, which minimizes soil disturbance to reduce erosion, crop rotation, and cover crops. The Habitat view includes an area of the farm set aside from production as natural habitat to encourage biodiversity and provide space for pollinators, birds, deer, and other wildlife.
Reliable Supply: The soybeans from this farm are trucked about 80 kilometers (50 miles) to two river terminal elevators in Mount Vernon, Indiana, situated on the Ohio River. From there, one company loads whole beans onto barges that carry them down the Mississippi River to the Gulf of Mexico for export to customers around the world. A second company crushes the beans at its local crush plant; about 60% of the resulting soybean meal is exported through the Gulf and the other 40% is used domestically.
Exceptional Composition: Some of these fields are testing new varieties for a U.S. seed company to ensure continuous improvement of their nutritional package of amino acids and energy, as well as oil functionality and performance.
Innovation: These fields rely on a variety of innovations, including past soil fertility and yield data to place varieties where they can thrive, precision farming to apply nutrients and other inputs just where they are needed, and herbicide-tolerant genetics to protect yield and quality.
Location: Mill Shoals, Illinois, in the U.S. Midwest