The U.S. Soybean Export Council's (USSEC) Soy Oil Masters Program offers insight about the reliability and sustainability of U.S. soy production, supply, and quality, as well as building positive awareness of soy and soybean oil in the food industry and beyond. USSEC piloted this program for oil buyers in Japan three years ago, closely followed by the launch of programs in Korea and Taiwan.
Soy Oil Masters in Korea
In 2018, USSEC began facilitating the Soy Oil Masters program in South Korea to help the country's top end users better understand the value and quality of U.S. soybean oil. Korean end users and associated influencer groups such as food companies; bottled oil manufacturers; and the hotel, restaurant, and institutional (HRI) sector were educated about the advantages of U.S. soybean oil, including its nutritional aspects, and practical applications such as oxidation and fry life.
Participants took part in a 30 to 40 hour course focusing on the U.S. Soy Advantage, followed by a test, which certifies the top test scorers as Soy Oil Masters. Last year, 14 Korean Soy Oil Masters were certified. This year, the 2019 Korea Soy Oil Masters Program took place from April 1 to June 27 and 89 people were certified as Soy Oil Masters.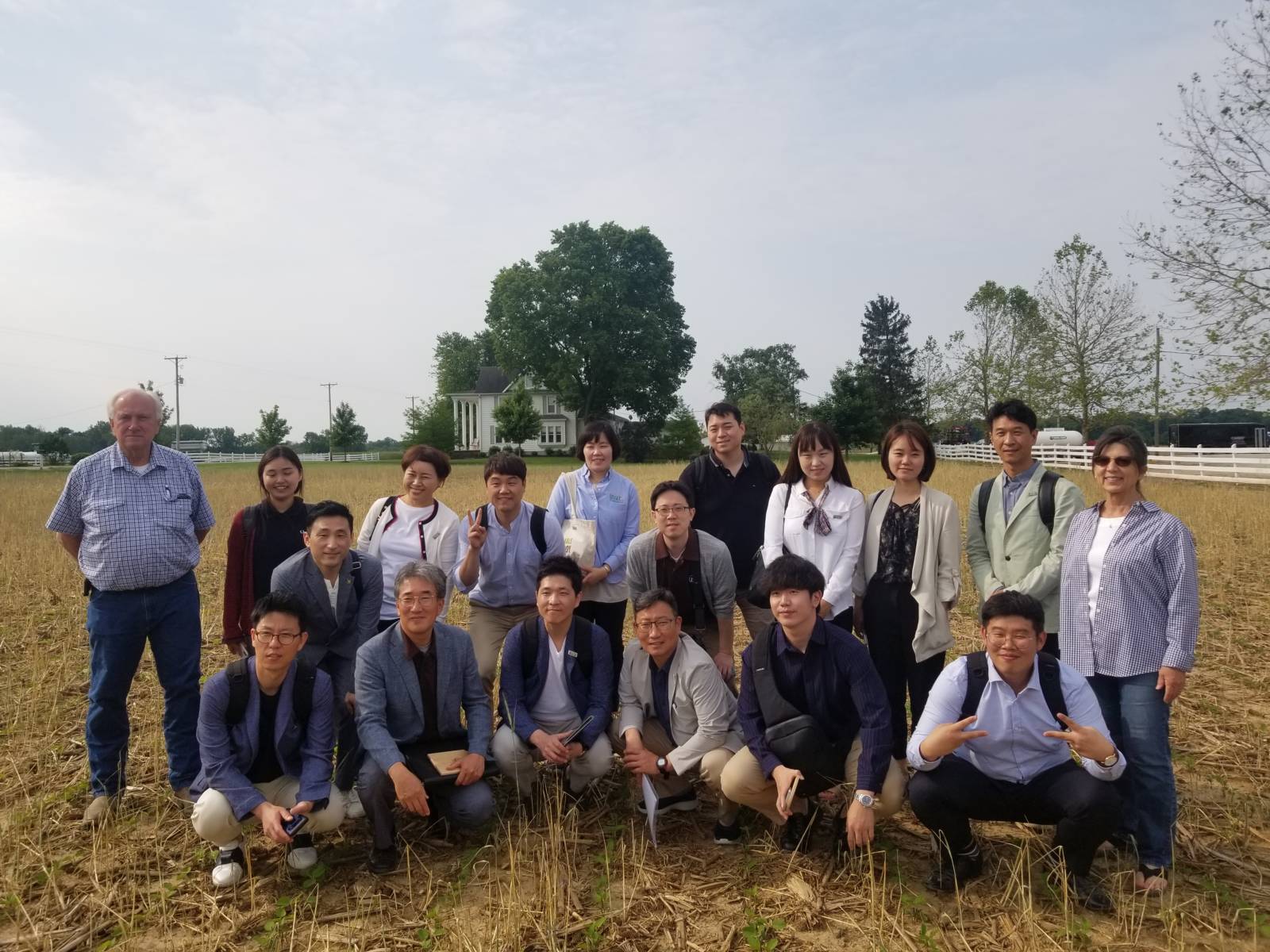 Korean Soy Oil Masters Visit the United States
In early June, a team consisting of the 2018 certified Soy Oil Masters and top oil buyers visited our farm in Middletown, Indiana. We initially talked with them in our office about the history of our farming operation. We explained that our land is revered as our most valuable natural resource to be cared for without exception. We were eager to convey to the group that intensive sustainability is a goal which pervades naturally in every facet of planning and operations on our farm and that we are driven to continually increase production efficiently in our model of a large commercial, family farm.
Our visitors were also interested in knowing about the technology in use on our farm. We illustrated and discussed the satellite guidance systems in place on our equipment, the variable rate technology and other precision farming techniques we use along with measures we take to ensure the quality of stored soybeans.  We also briefly discussed the enterprise resource planning tool system, which we use to facilitate data collection.
Outside, we took them into one of our nearby fields of no-till soybeans planted into a cereal rye cover crop, which is a common practice on our farm.  This was an excellent visual demonstration of our sustainability practices, which are very important to them.
From June 1 to 7, the delegation had visits and meetings with U.S. soy stakeholders representing the whole value chain: qualified state soybean boards (QSSBs), seed development companies, exporters, farmers, and institutional users. Bunge, Clarkson Grain Company, Bayer, Indiana Soybean Alliance, Illinois Soybean Association, and the Missouri Soybean Association were some of the organizations the Korean team met with as they observed the production and application of U.S. conventional and high oleic soybean oil.
They also visited Purdue University in West Lafayette, Indiana. At Purdue, the group met with director of culinary operations and executive chef Bruce Haumesser. Currently, the school is the largest university in the U.S. utilizing high oleic soybean oil, serving 28,000 meals each day.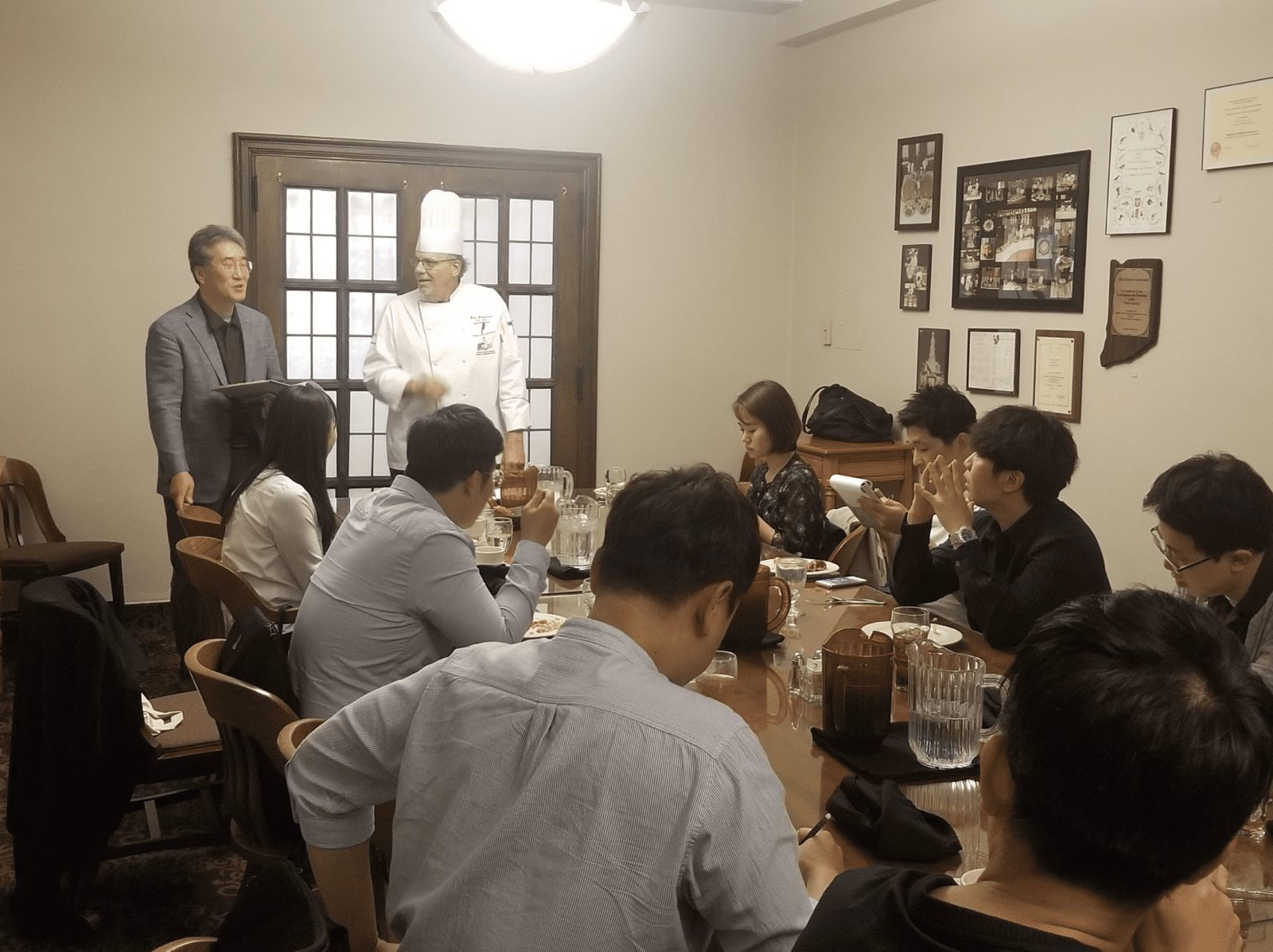 2019 Award Ceremony & Reception in Seoul
Just a few weeks later, it was my turn to visit my new friends when I had the opportunity to travel to Seoul to participate in the Soy Oil Masters Program 2019 Award Ceremony & Reception in Korea on June 27. There were about 70 or 80 total attendees at this event, including those 14 Soy Oil Masters who had visited us in Indiana.
At this event, I gave a presentation, "A Farmer's Perspective on U.S. Soy." I have to admit that I continued to be surprised by this market's insistence on sustainability and conservation – this is deeply important to them. If they're doing business with you, they very much assume that sustainability is a given. It's good to know that the sustainability of U.S. products and the work that we growers put into conservation practices are so appreciated in Korea.
The attendees also had many questions and concerns about this year's unusual weather. 60 to 70 percent of Korea's soybean oil comes from the United States, and I assured them that we are reliable suppliers.
Finally, I want to stress how this program is changing attitudes and behaviors. The Soy Oil Masters Program is helping to increase the understanding of the target groups about the advantages of U.S. soybean oil and increase U.S. market share in imported soybean oil markets. In Korea, the current U.S. market share from January to April 2019 is 89 percent, compared to 81 percent last year. The U.S. market share for soybean oil in Korea is currently valued at $96.89 million.
Please click here to watch a video recapping the Seoul reception.