The clock on the dash of Ryan Britt's pickup reads only 11:30 a.m., but it's time for lunch.
"Can't be late on rib day," Britt says with a laugh as he pulls into the restaurant parking lot already teeming with other four-wheel drives. "And to be honest, it'll be nice not to eat lunch in the tractor today."
Due to an unseasonably cool spring, planting on the Britt farm — like many across the state of Missouri this year — was delayed. That meant long days for Britt as he tried to catch up. He finished planting corn earlier in the week, but now on this Friday in early May, two days of rain offered a respite from the frenetic pace.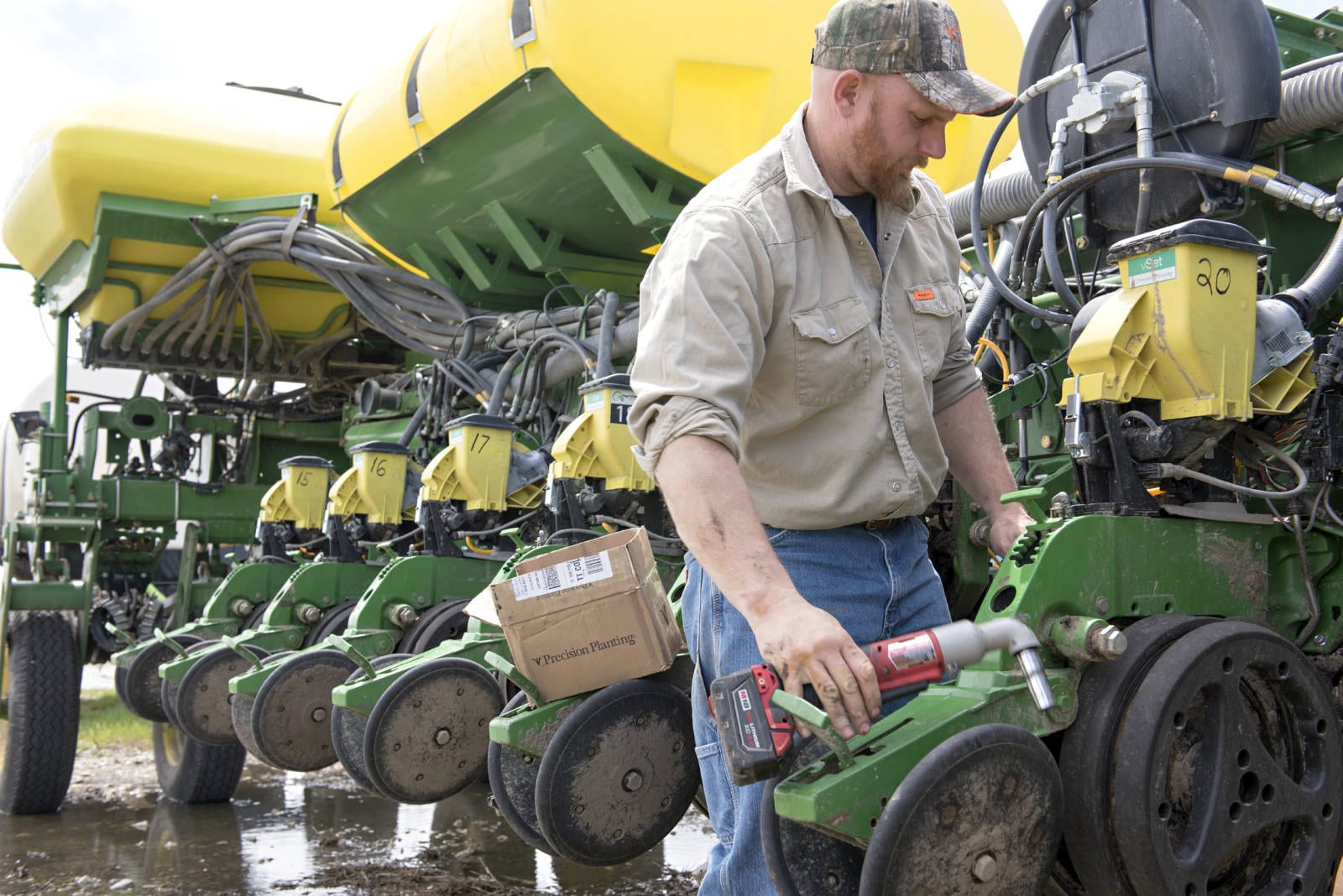 Soybean planting wouldn't have to wait long, however, thanks to the soil and water conservation practices the Britts have established on many of the roughly 4,000 row-crop acres they manage.
"That's one of our fields that'll have beans," he says, pointing to a parcel covered in emerald-green cereal rye. "Between the terraces and the cover crops, it's just night and day difference in the quality of the water coming out of those tiles versus a field that's not terraced and conventionally tilled.".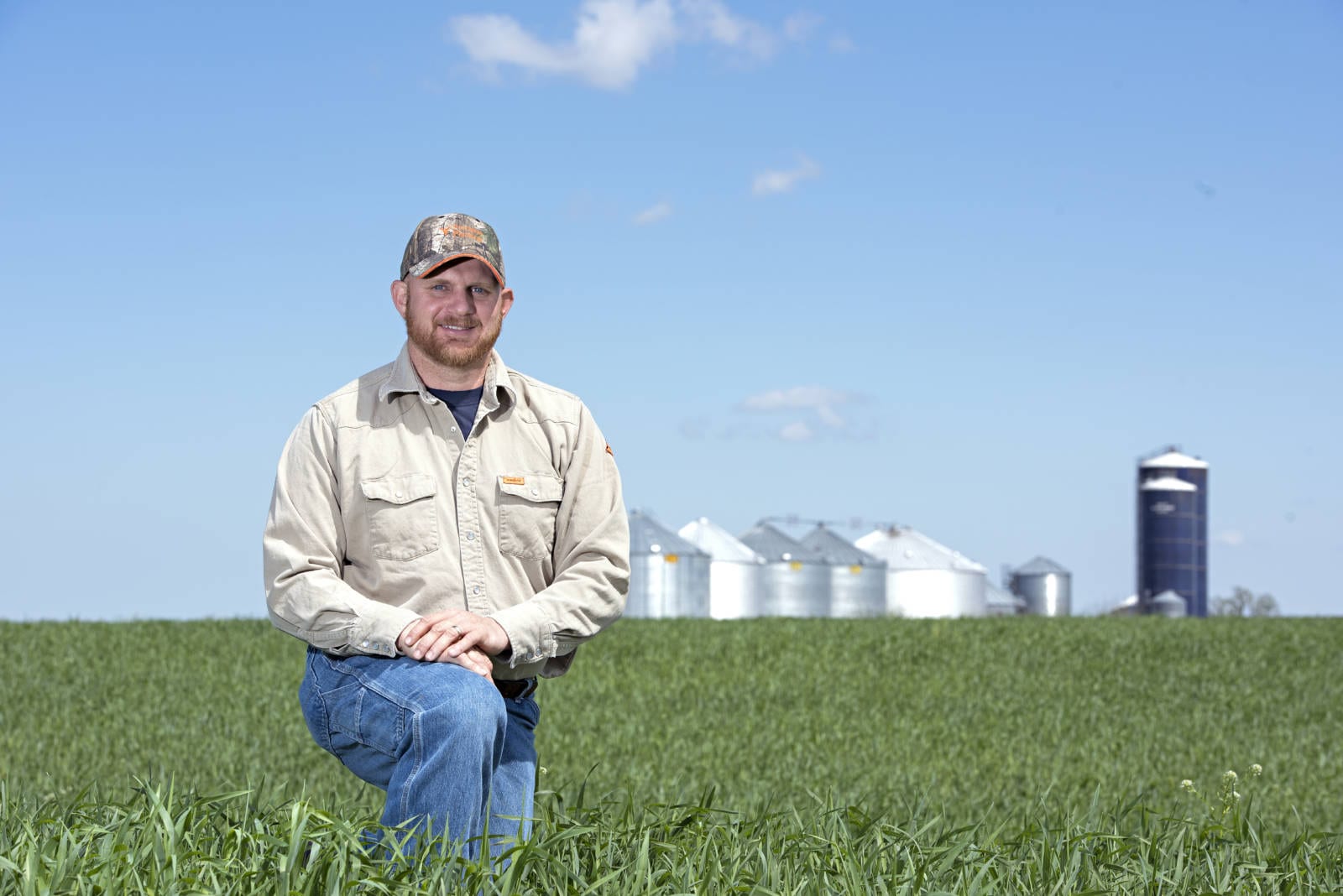 The Britts are among the tens of thousands of Missouri farmers who have participated in the Missouri Soil and Water Conservation Program (SWCP). Managed through the Missouri Department of Natural Resources, the voluntary program offers cost-share and technical assistance to farmers and agricultural landowners who are interested in protecting their lands and water quality.
Funding the Future
While soil and water conservation efforts had been in place for decades, Missouri's voters chose to substantially invest in their future in 1984 by passing a one-tenth sales tax to support both soil and water conservation and Missouri State Parks. The tax has been renewed on multiple occasions, most recently in 2016, when the measure passed in all 114 counties for the first time. A resounding 80 percent of Missourians voted in support of taxing themselves for yet another decade.
"Since the passage of the sales tax, Missouri has prevented more than 184 million tons of soil erosion on more than 5 million acres," says Colleen Meredith, SWCP director. "We've helped to fund more than 242,000 projects across the state during that time."
Today, a Soil and Water Districts Commission comprised of six farmers appointed by the governor oversees the program and its activities. It is administered through the Department of Natural Resources, which is staffed to assist the Commission and serve as liaison to the 114 Soil and Water Conservation Districts (SWCD), one for each county. Each district is led by an elected board of volunteers who decide locally how cost-share funds are allocated.
"It's just amazing what Missouri has to offer," Meredith says. "Since I started with the program, we've gone from offering assistance with 17 conservation practices to today offering 50 different practices. And we have about $40 million each year for landowners, which is unbelievable."
Meredith says those 50 practices fall into one of seven categories: Sheet, Rill and Gully Erosion; Irrigation Management; Nutrient and Pest Management; Woodland Erosion; Animal Waste Management; Grazing Management; and Sensitive Areas. Producers who have completed a conservation plan may apply for cost-share funding, and the program typically pays 75 percent of the minimum cost to complete the practice. The remaining 25 percent is paid by the landowner.
Oftentimes, soil and water funds will be matched against federal funds or others to complete projects. Meredith says partnerships with other agencies and groups — such as the USDA Natural Resources Conservation Service, Missouri Department of Conservation, University of Missouri, the Nature Conservancy and the Missouri Soybean Association — help to strengthen efforts.
"Our district staff folks are typically located in USDA offices, so they'll work with NRCS staff on technical assistance for projects," Meredith explains. "We've also found creative ways to work with MDC to provide extra incentives."
Brent Vandeloecht, MDC's agricultural liaison, agrees.
"What we're able to do a lot of times is piggyback our cost-share on soil and water projects to make them more wildlife friendly," he says. "For example, if someone is fencing off a creek to keep their cattle out, there's typically a buffer strip of grass. Rather than planting that to fescue, we can convert that to a native grass, so not only is it now providing good water quality, it's also making good wildlife habitat."
Across the state, MDC employs 48 private land conservationists who also work in tandem with NRCS and SWCD staff to help landowners meet conservation objectives. Vandeloecht says other states simply don't have the funding available to provide the same level of service.
"The soil and water program is a fantastic tool for anyone who owns land and is managing a farm operation, whether it's row crop or livestock production," he says. "The farmers of Missouri are the best stewards of the land. They have a conservation ethic. They want to take care of the land, and these programs are one way they can do that."
Meredith echoes the sentiment. "I have to give a lot of credit to the landowners," she says. "This is a voluntary program, so they don't have to do these things, but they really care about their soil and about their water. We could never do the work we do without them."
Conservation Generation
At 39 years old, Britt is a fifth-generation farmer who has lived most of his life with a well-funded Soil and Water Conservation Program. He says his father and grandfather instilled in him the lesson that you leave things better when you're done than when you started.
"That's not different than most farmers," says Britt, who currently serves as president of the Missouri Association of Soil and Water Conservation Districts. "Growing up, I learned pretty quick that we need to make the most of what we have. There's a lot of ground we've had that was farmed at one point, but now we have it in grass because it makes more sense. Once that dirt is gone, you can't get it back."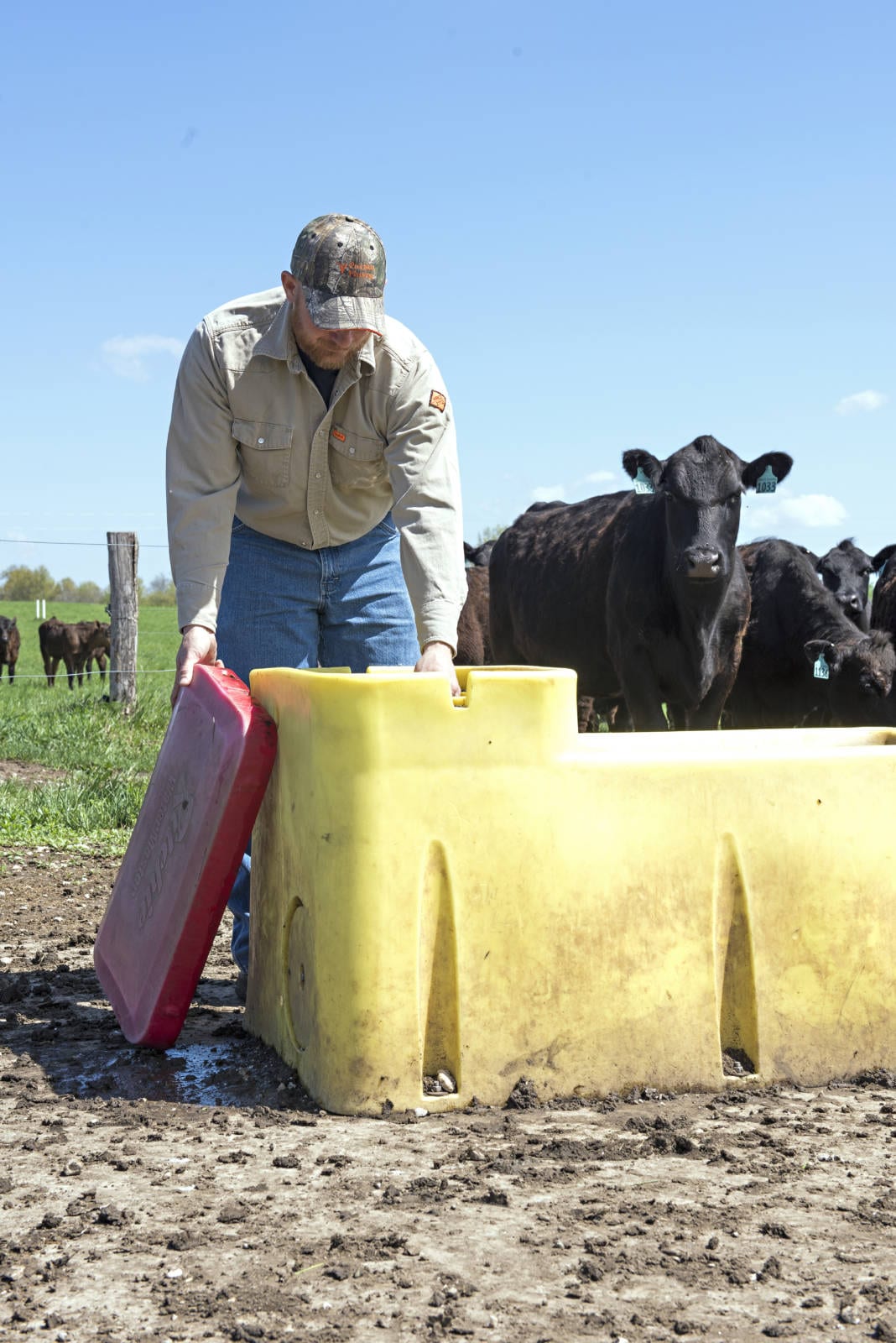 Over the years, the Britts have worked with the local SWCD to build ponds and terraces. The farm now employs a no-till management system, and like many others, they've begun incorporating cover crops where it makes sense, another practice for which cost-share is offered.
In addition to the row-crop operation, the Britts also manage a cow-calf herd with more than 500 cows. They've adopted rotational grazing using alternative watering systems to reduce erosion and protect the water quality of Thomas Hill Reservoir, which sits adjacent to the farm.
As a father of three, Britt says he's motivated not just to maintain their operation's soil and water quality, but to take it beyond and actually improve the soil's health.
"Just taking care of the land is a driving force for many, but for me, I also have the driving force of my children and giving them the same opportunity to farm that I've had — or better," he says. "We've done a lot of things in agriculture that were successful for a long time, but we're also seeing some consequences of those things.
"Adopting these conservation practices will allow us to keep farming the way we want to farm. Voluntary conservation works, and it benefits everyone."
Learn more about the Missouri Soil and Water Conservation Program at www.dnr.mo.gov/env/swcp.