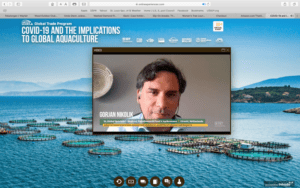 While COVID-19 has impacted prices for farmed fish, production and volumes have remained consistent and recovery is underway. The pandemic affected segments of the aquaculture industry to varying degrees. Gorjan Nikolik, senior analyst for seafood from Rabobank, described key species in his industry update on salmon and shrimp during the digital conference COVID-19 and the Implications to Aquaculture, hosted by the U.S. Soybean Export Council (USSEC) in late May.
"It's food service that really hurt the seafood industry," Nikolik explained. "For example, in the U.S., salmon consumption from food service is 40 to 50 percent. It's perhaps 30 percent in Europe. And shrimp is very important in China, with the Lunar New Year being a high point in consumption. And that's when the country shut down because of COVID-19."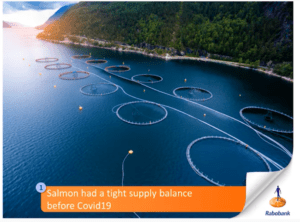 Salmon Price Correction
Nikolik noted the biggest impact of the coronavirus on salmon aquaculture has been price correction, as the fish already had a tight supply outlook, which further tightened during this pandemic.
"The salmon aquaculture industry was in a good place before the virus," he said. "It was enjoying a long-term, high-price scenario since 2016. Prices adjusted up following an algae outbreak in Chile, and supply could never really keep up with demand."
But with COVID-19, food service demand dropped around the world. Although retail demand grew, the overall demand fell and prices dropped, as well. Salmon production and processing did not have many disruptions because of the virus, though some plants did close in Chile.
"In the salmon sector we're going to have some losses primarily due to a low price point, but production and volumes have not been impacted that much, and we do expect a recovery before the end of this year, at least in prices," said Nikolik. "We've seen roughly the bottom for this industry. The way up will be difficult to forecast. It will be a difficult year, but we have a recovery in sight."
Shrimp Supply and Demand Recovery Slow
The shrimp sector had been going through a difficult period. Prices had been falling since a disease crisis caused them to peak in January 2014. But as a whole the industry was recovering.
2019 was a particularly strong year of supply growth. And, early 2020 forecasts were bullish, despite the low price point. In January, the shrimp industry expected 6 percent global growth, and sector was gearing up for big supply.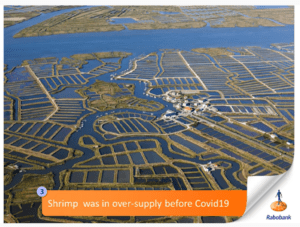 And then demand disappeared.
"This happened first in China," he said. "All the suppliers focused on this market then turned to the U.S. and Europe, only to find that their demand had disappeared."
Demand is now recovering, but slowly.
The shrimp value chain experienced more interruptions than salmon. Lockdowns in countries like India prevented hatcheries and feed companies from bringing products to farms and farmers weren't able to export products because ports were closed. Situations varied by country, but now many supply chains can operate fully.
The bigger challenge is waiting for demand to recover as countries reopen. Restaurants are very important for shrimp consumption.
"According to a survey, 41 percent of respondents said it will take them one to five months to go back to a restaurant again," Nikolik shared. "And 20 percent said it would take them longer than 6 months. That's concerning, and I think that means we will have a severely depressed demand curve for shrimp for the rest of the year."
While the 2020 outlook for the shrimp and salmon industries remains highly uncertain, there are some promising signs. China has opened their market, and that is supporting market recovery. And other global markets will eventually follow.