The National Oilseed Processor Association (NOPA) issued January soybean crush and stocks data on Tuesday, February 18. According to the data, NOPA member soybean processing in the fourth month of the 2019/20 product (October-September) marketing year totaled 4.815 million tonnes. January crushings were record-large and up 0.058 million tonnes from December and came in 0.144 million above last year. Cumulative crushings of 18.834 million tonnes are up 1.4% from 18.580 million the same period last year.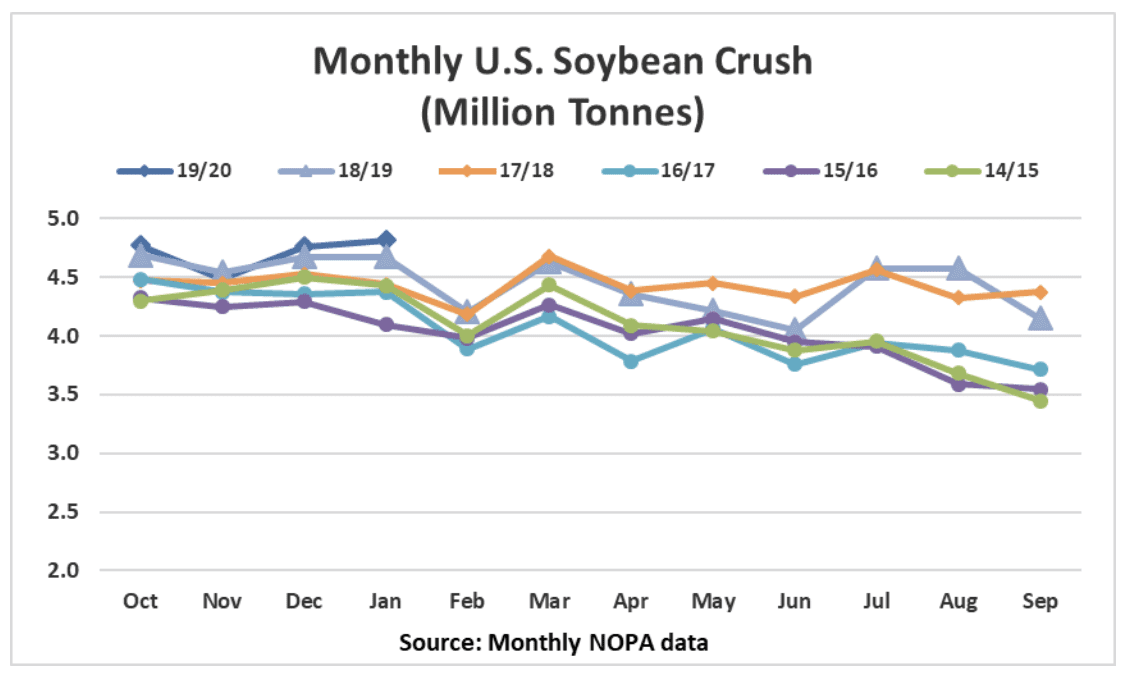 According to analysts' expectations published by Reuters, the trade was looking for crush to come in near 4.729 million tonnes with the highest published guess coming in slightly above the actual crushings at 4.817 million tonnes. Financial crush margins measured against Chicago futures prices peaked early in December and remained strong for much of January, helping to explain the elevated processing levels. Another feature that is seen supporting U.S. soybean processing rates is the recent advancement in the domestic crush industry that has been highlighted by the new plant that came online in Aberdeen, South Dakota earlier this year that was said to reach peak operations by the end of 2019.
The U.S. Department of Agriculture's (USDA) February World Agricultural Supply and Demand Estimates (WASDE) report again maintained the agency's previous forecast for crushings to rise nearly 1% from the 2018/19 marketing year to 57.288 million tonnes. This latest surprise from the January NOPA data may prompt some analysts to increase their expectations for the 2019/20 marketing year but USDA analysts will likely require additional data to support an increase ahead of the seasonal slowdown in U.S. processing rates that generally occur from scheduled downtimes in the summer months. Assuming that there is a normal relationship between the NOPA figures and the industry data for January that is set for release from USDA's National Agricultural Statistics Service (NASS) on March 2, it seems unlikely that USDA will be so quick to move higher in their domestic soybean projections.