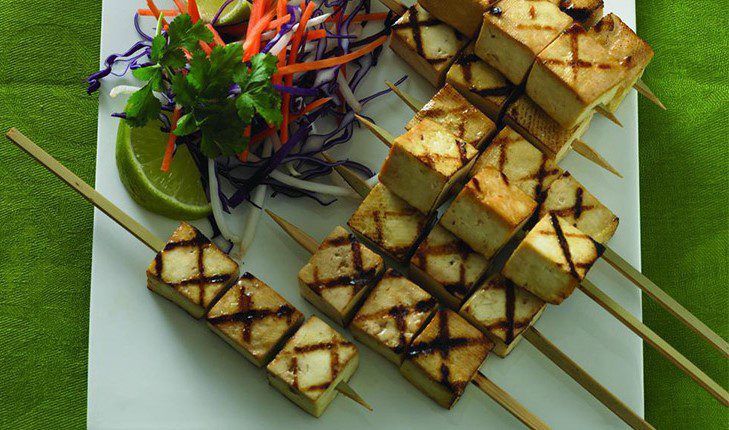 Party-Perfect Tofu Skewers with Soynut Satay Dipping Sauce
Ingredients
Party-Perfect Tofu Skewers
1 package Extra firm tofu (20 oz.), drained and cut into 42, 1-inch cubes
2 tbsp Lime juice
1 tbsp Soybean oil
1 tbsp Reduced sodium soy sauce
14 Bamboo skewers
1 cup Soynut Butter Dipping Sauce (recipe follows) Additional soy sauce and oil for brushing
Soynut Satay Dipping Sauce
1/2 cup Soynut butter
1/4 cup Fresh lime juice
1 tbsp Soybean oil
1/4 cup Rice vinegar
1/4 cup Water
2 tbsp Reduced sodium soy sauce
1/4 cup Fresh green onion, chopped
1 1/2 tsp Fresh ginger, grated
1 tsp Fresh garlic, chopped
Instructions
To Prepare Party-Perfect Tofu Skewers:
Place tofu, lime juice, oil and soy sauce in large bowl; gently stir to coat. Cover and refrigerate, stirring occasionally, for 2 hours or overnight.
Assemble 3 tofu cubes on each skewer. Brush grill with oil. Preheat grill to medium.
Grill over medium heat for 3 minutes, turning frequently and brushing with soy sauce and oil, until golden brown. Serve with Soynut Satay Dipping Sauce.
To Prepare Soynut Ginger Dipping Sauce:
Pulse all ingredients in food processor until smooth. Place in small bowl. Cover and refrigerate.