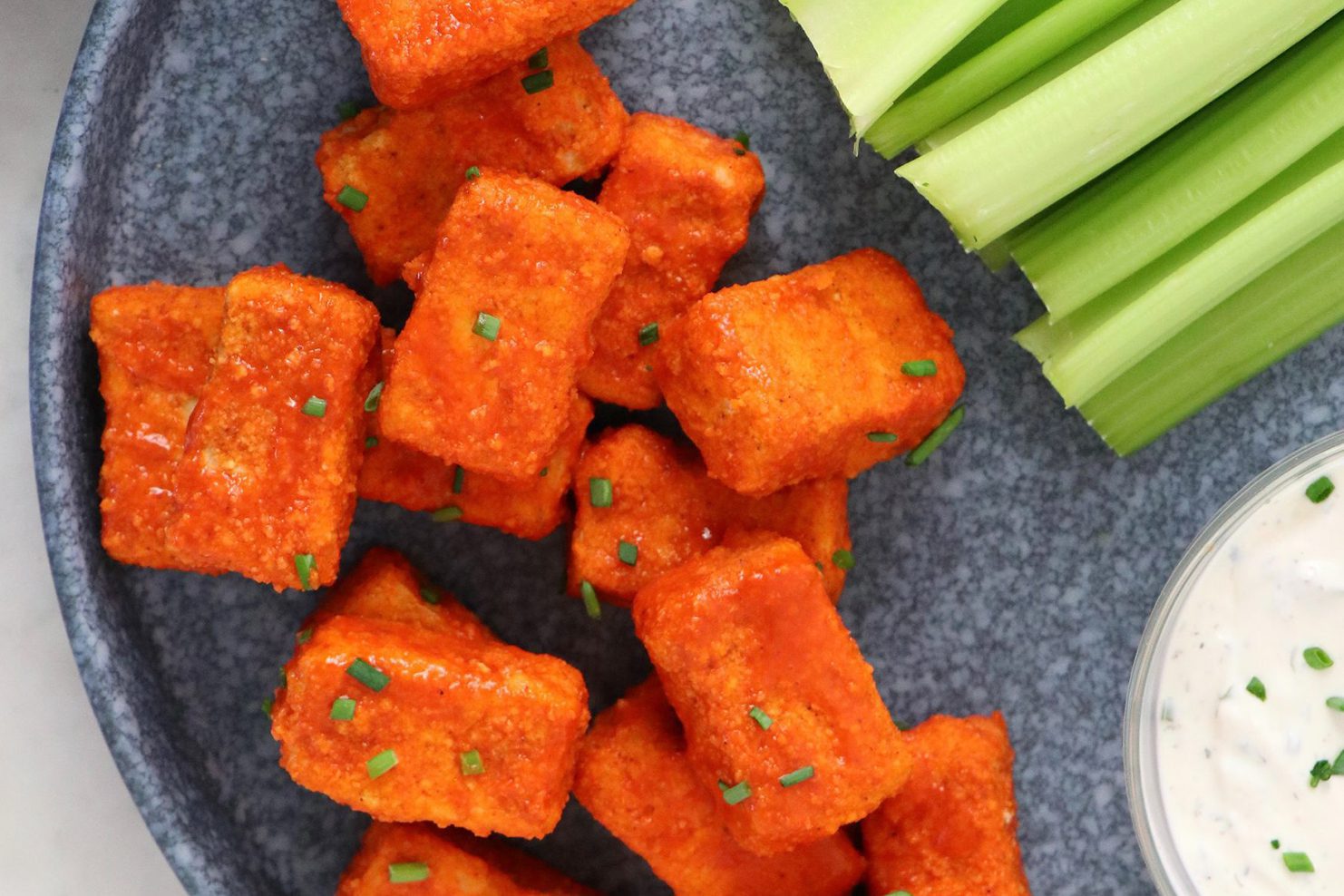 Crispy Air Fried Buffalo Tofu Nuggets
Ingredients
1 block extra firm tofu
4 tbsp cornstarch
4 tbsp almond milk
¾ cup gluten free panko
½ tsp garlic powder
½ tsp paprika
½ tsp onion powder
½ tsp salt
Few cracks black pepper
⅔ cup buffalo wing sauce
1 tbsp chives (garnish)
Instructions
Remove tofu block from the package and discard liquid. Wrap tofu in paper towels or a cheesecloth, place on a plate, and cover with a heavy dish pot for about 10 minutes to remove remaining water. Cut tofu into 1-inch, bite-sized pieces and place in the freezer for 8 hours to overnight. Freezing the tofu provides a chewier texture that mimics chicken.
Remove tofu from freezer and thaw on paper towels or a dry cheesecloth. Pat dry. While tofu is thawing, put cornstarch into a resealable plastic bag. Place tofu into the bag with the cornstarch, seal, and shake to coat the tofu pieces completely. Remove the tofu from the bag and set aside.
Preheat an air fryer to 375 degrees F (190 degrees C).
Pour the almond milk into a small bowl and dredge each piece of tofu in the almond milk. Place breadcrumbs, garlic powder, paprika, onion powder, salt and pepper in the resealable plastic bag with the cornstarch residue; shake until well mixed. Place each piece of tofu, one at a time, back in the bag with the bread crumb mixture. Shake the bag until tofu piece is completely coated, tap gently to shake off excess, and place tofu on a wire rack while you repeat with remaining tofu pieces.
Add coated tofu to the air fryer basket and cook for 10-15 minutes, stopping to flip them every 5 minutes. Cook until lightly golden.
Place ⅓ cup buffalo sauce in a bowl, add cooked tofu bites, and toss to coat. Drizzle remaining buffalo sauce over tofu and continue tossing to coat. Serve immediately. Garnish with chopped chives.