The U.S. Grains Council (USGC) is exploring modes of transportation in the U.S. supply chain that provide a reliable supply of agricultural commodities. Railroads throughout the U.S. continue to deliver soybeans, corn, and other products to customers in Mexico. 
The same farmers growing corn highlighted in this article are also supplying soybeans and soy products. According to the U.S. Soybean Export Council (USSEC), about 55 to 60% of whole soybeans shipped to Mexico are sent via rail.[1] And nearly all the soybean meal and soybean oil Mexico imports from the U.S. travel via the rail system described in the USGC article.
The U.S. freight railway system continues to stay on track despite challenges posed by COVID-19 – meaning U.S. corn and sorghum will keep moving south to one of the most important U.S. export markets, Mexico.
"Rail is the primary mode of transportation for many Mexican buyers to receive corn," said Reece Cannady, U.S. Grains Council (USGC) manager of global trade. "Logistics are moving smoothly. There are no problems currently with the rail system as it is part of essential enterprise."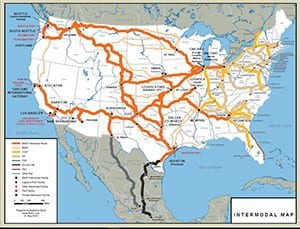 [1] https://www.unitedsoybean.org/article/all-rail-roads-lead-to-mexico