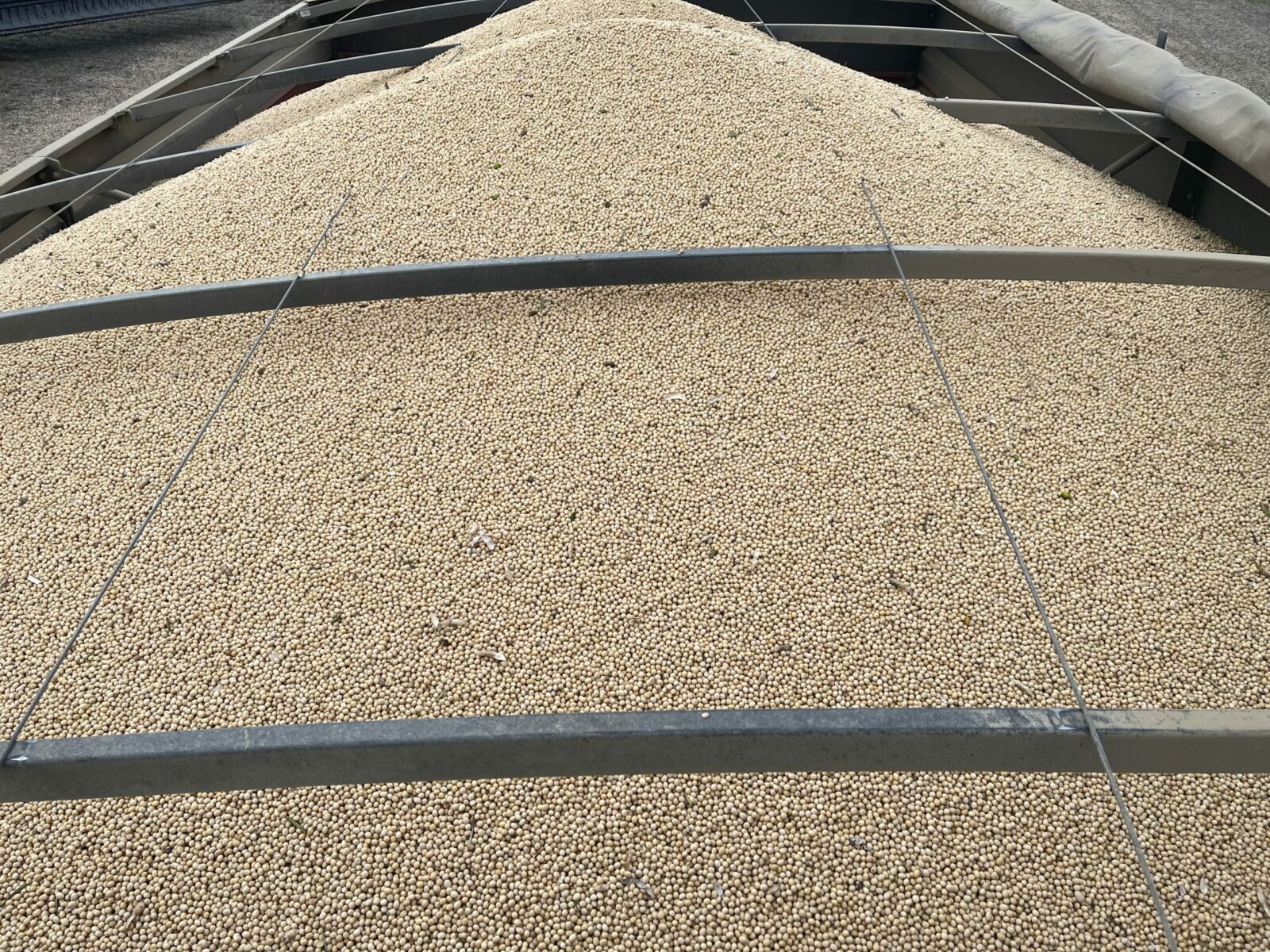 After a full growing season, I am harvesting high-quality, food grade soybeans. I started cutting soybeans on September 29, a few days earlier than average. Based on data collected by the combine, yields have been average to a bit above average, as expected.
The weather impacted the crop in various ways. A dry spring allowed me to plant soybeans a bit earlier than average, in late April and the first half of May, getting them off to a strong start. However, too much rain in July stunted growth and reduced yields in fields with less effective drainage.
Now at maturity, the soybeans are shorter than average, so the lowest pods are just above the ground. When combining, the cutter bar must hug the ground to ensure all the soybeans are picked, without allowing topsoil to run through the machine with the white soybeans. To do that, I drive the combine, equipped with a cutting head that is 13.7 m, or 45 feet, wide, more slowly than usual. Most years, when soybeans are taller and the lowest pods are further off the ground, the cutter bar can be raised at least 7 cm, or 3 inches, above the ground.
Thankfully, the fall weather has been very dry, so the soybean plants don't bunch up as they are cut, even though some have green stems. The short plants have branched out well, and they are standing up well, which aids harvest.
Careful Handling Protects Quality
All year, I have been managing our soybeans to protect their quality. Those efforts continue into harvest, as I mentioned earlier explaining how I run the combine. In addition, the dry weather has contributed to drying out any lingering weeds. We have no green weeds in the field, minimizing the potential for color staining. Usually, high-protein white tofu soybeans have an oval shape, but this year they are more spherical for reasons we haven't been able to determine, which will impact the quality grade.
Conditions must be dry when cutting these soybeans. Because of that, I start combining an hour or two later each day than farmers harvesting commodity soybeans, after the dew has fully dried. I also have to stop as soon as dew falls in the evenings, which is often an hour or so earlier than others.
However, a drawback of the dry weather is that the soybeans themselves have dried more than I prefer. They contain between 11 and 12% moisture, and I prefer to harvest them with 13 to 14% moisture. Usually, the humidity in our region of the U.S. ensures that soybeans grown here contain ideal moisture levels. Drier soybeans can be damaged or split more easily during handling, while also causing more work for food processors to maintain quality.
While I combine at a slow enough speed to pick up the soybeans and minimize damage, my daughter, my son-in-law or an employee drives our grain cart alongside the combine. The combine unloads soybeans into that grain cart, which carries them to a semitruck at the edge of the field. The augers on both the combine and grain cart are large enough that they cause very little damage to the soybeans.
Cleaning Ensures Identity Preservation
In addition to ensuring quality, our soybeans must be handled as identity-preserved (IP) products. That means constant, careful cleaning to prevent cross-contamination for each variety of soybeans raised. This year, I planted just one soybean variety, which requires less effort.
When I switch between harvesting corn and soybeans or between soybean varieties in the years I grow more than one, all the equipment must be cleaned completely between harvesting different crops or varieties. It takes about four hours to clean the combine. The grain cart, semitrucks and any other handling equipment must all be cleaned, as well.
At the beginning of harvest, all of our soybeans go from our fields directly to Schwartz Farms, the exporter we work with. This minimizes handling the soybeans and opportunities for additional damage and contamination. However, if they run out of storage space, we will store any remaining soybeans on our farm. Then we have to handle the soybeans another time to deliver them to Schwartz Farm, about 25 km, or 15 miles, from our farm, later in the year when space is available.
When I do have to store soybeans on our farm, we clean the auger and handling equipment thoroughly. The storage bins are cleaned with a high-pressure washer to eliminate foreign material. Even dust left from a conventional corn crop can contaminate these soybeans.
Schwartz Farms plans to start shipping this IP crop to customers in December or January. However, container availability continues to be a challenge.
Like other U.S. farmers growing soyfood beans, I take pride in delivering a reliable, sustainable product. We all work to develop relationships with customers and meet their standards. This time of year, it's very satisfying to harvest a high-quality, high-protein crop for them.
This soyfood bean update is funded by the soy checkoff. To share or republish part or all of this article, please link to the original article and credit www.USSOY.org.