There has been increased focus in mid-June on India, as the annual Southwest Monsoon has been slow to develop in 2019. The monsoon, which brings much needed moisture to cropping areas and key reservoirs, typically begins in June and lasts through September. The seasonal tracking is performed by India's Meteorological Department (IMD) shown below. The green line indicates the development of this year's monsoon while the dashed red lines represent a normal advancement. In its second forecast of the 2019 monsoon issued May 31, IMD forecast that rainfall would reach 96 percent of the 50-year, long period average.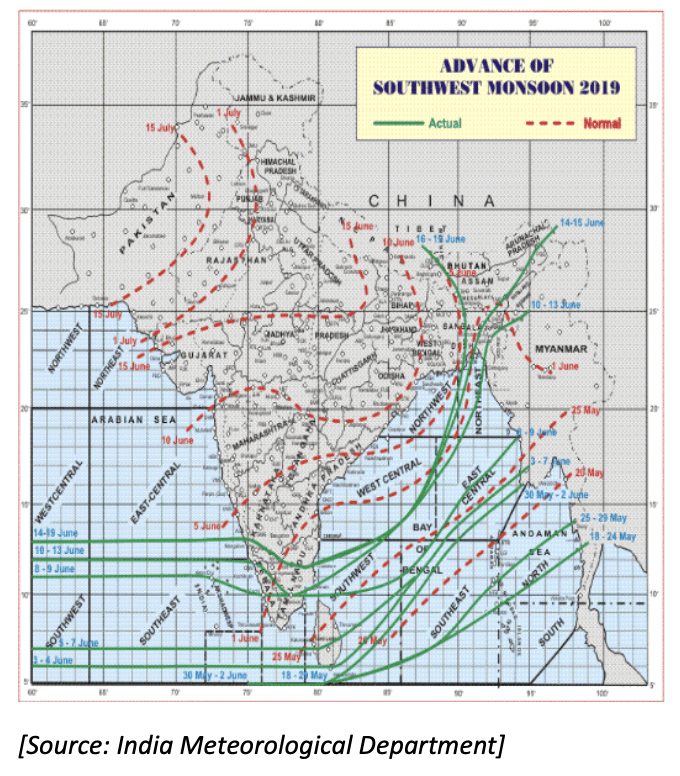 In its April Oilseed and Products annual report, the U.S. Department of Agriculture (USDA) Foreign Agricultural Service (FAS) post in New Delhi forecast total Indian oilseed output would rise nearly 8 percent from 35.350 million tonnes collected in 2018/19 to 38.100 million to be collected in 2019/20. India's combined soybean, rapeseed, mustard, peanut, sunflower, cottonseed and copra planting are seen rising 3.3 percent from 37.0 million hectares in the current marketing year to reach 38.25 million with larger plantings expected to be the result of improved crop economics. Of the total, 11.6 million hectares are expected to be sown to soybeans. Soybeans are the second largest area planted to oilseed behind cotton, while rapeseed plantings are expected at 7.2 million. According to the post, more than two-thirds of Indian's oilseed output is dependent on rains from the Southwest Monsoon. The map that follows shows that the majority of India's soybean production is located in the center of the country, which coincides with a normal monsoon date of late June/early July. The current pace suggests that rains will be about two weeks later than normal.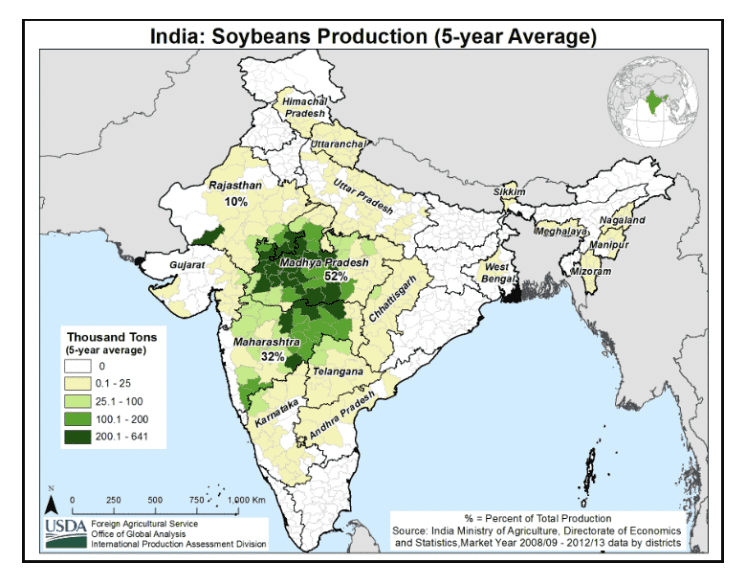 India has historically been a net exporter of soybeans on the world market but has imported as much as 166,000 tonnes in the 2017/18 marketing year. The Indian government has strict phytosanitary regulations in place and requires all imports to be non-genetically modified (non-GMO). What may prove to be a bigger feature for the world soybean market should India observe a sizeable shortfall in output following a poor monsoon this summer would be increased demand for soybean oil imports.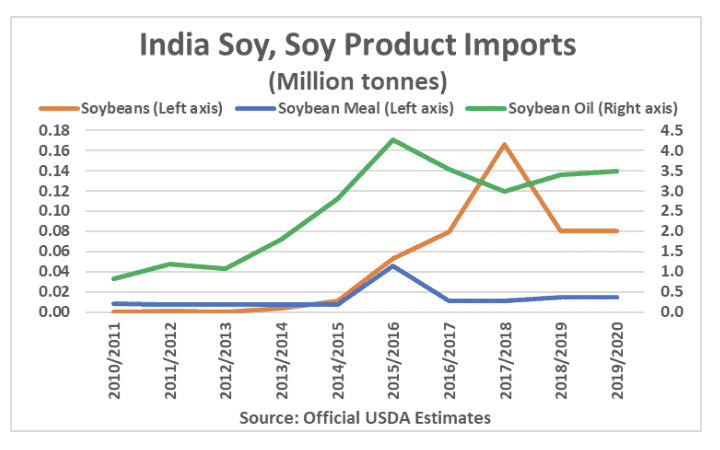 In its annual report, the Post identifies that India is already facing a deficit for vegetable oils as growing populations combined with growing consumer awareness and greater disposable income help to drive demand. India currently only imports soybean oil that has been crushed in South America. Should India continue to rely heavily on South American soybean oil, the market may have either see fewer South American soybeans offered for export on the world market or India may have to make changes to its existing buying program to open up additional vegetable oil imports.