The U.S. Department of Agriculture (USDA) post office in Lagos issued its annual update on Nigeria's animal feed sector in late May. According to the report, Nigeria is Africa's largest economy with a 2019 calendar year GDP of $444 billion USD, thanks largely to its petroleum and natural gas exports. The country's population is young, with roughly 20 percent of the population falling between 15 and 24 years old. Nigeria's population is projected to more than double, reaching 392 million by 2050. This combination of a growing population and stable economic resource base suggests that the country is ripe for investment in its animal feed sector in the coming years.
According to research performed by the World Bank, Nigeria's abundant water supply and favorable climate can support a resurgence in the nation's food independence but there are hurdles currently in place. A lack of available financing, along with limited access to key technologies such as improved seed varieties, fertilizers and other chemicals, along with limited storage capacity are all factors restricting domestic production. Until these hurdles are cleared, Nigeria will likely increase their reliance on imports to feed its people.
According to official USDA estimates, Nigeria produced about one million tonnes of soybeans in the 2018/19 growing season with output expected to increase about 4 percent in 2019/20. Soybean imports are expected to remain minimal at near 70,000 tonnes in 2019/20 but soybean meal demand is projected to continue its recent upward trajectory following a setback in 2015/16.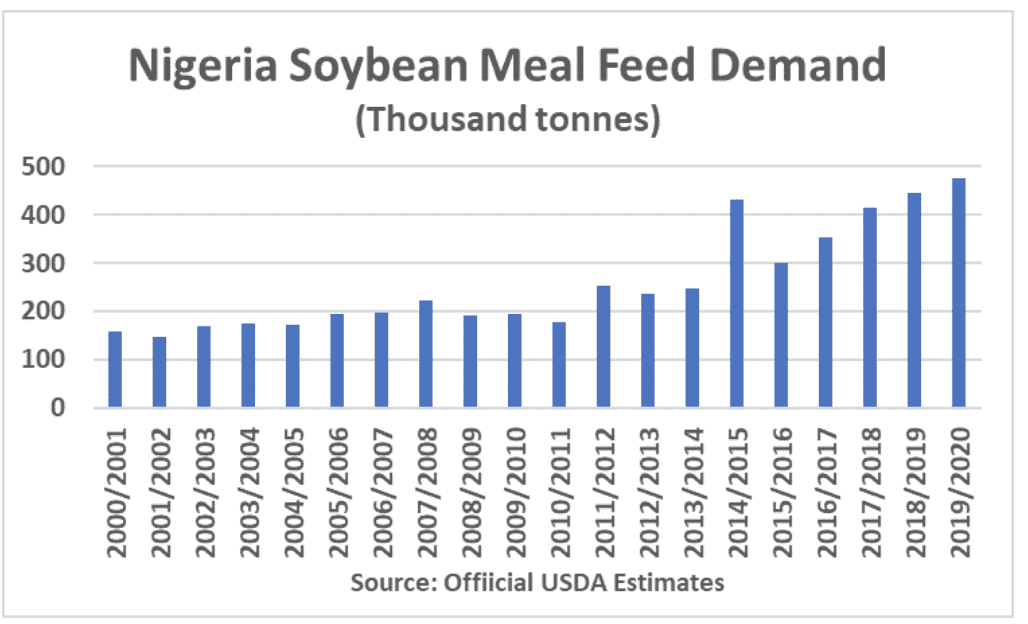 On September 12, 2017, global agribusiness Olam International limited opened poultry feed mill and day-old-chick (DOC) facilities along with an integrated poultry and fish feed mill. The two mills represented an investment of $150 million USD. Combined, the two feed facilities produce 720,000 tonnes of poultry feed per year. Consumption growth for protein has fallen short of expectations, however, due to the nation's recent economic recession. The Post forecasts that, assuming moderate feed costs, Nigerian meat and poultry consumption could increase tenfold by 2040. Nigerian farmers rely on soybean meal as a high-quality, affordable source of animal feed with a digestibility rate of nearly 85 percent in poultry. Assuming that the attaché demand growth forecast is correct, then Nigeria will likely become an increasingly important market for the U.S. in the coming years, thanks to the efforts of U.S. soybean interests that promote high quality, sustainable products to buyers around the world.