The U.S. Department of Agriculture (USDA) issued its monthly World Agricultural Supply and Demand Estimates (WASDE) report on Tuesday, March 11. In the report, the agency updated its U.S. and world supply and demand outlooks for the major crops. This highlight of this latest update for soybeans included larger South American supply ideas which were carried through the balance sheet to boost projected world ending stocks for the 2019/20 marketing year.
After making modest upward adjustments to the agency's U.S. soybean export forecast in the February update, USDA made only minor adjustments to its demand components in the March report. The lone changes were a fractional increase in seed usage that came at the expense of projected residual demand in keeping projected ending stocks unchanged from last month at 11.557 million tonnes. In addition to the shift in demand, the agency also lowered its projected season-average farm price by $0.05 per bushel from February to $8.70 as U.S. soybeans are expected to maintain competitive levels with larger new-crop South American supplies. This compares with $8.48 per bushel received last year but remains a far cry from prices above $10.00 per bushel experienced in each marketing year between 2010/11 and 2014/15.
USDA raised its estimate of foreign soybean output 2.359 million tonnes this month with increases of one million tonnes each for both Argentina and Brazil along with a boost of 359,000 tonnes outside of major exporting and major importing countries. World soybean imports were forecast to be little changed from last month at 150.39 million tonnes with the lone changes again coming outside of countries highlighted by USDA on a monthly basis. In its monthly demand forecasts, USDA lowered foreign crushings by 0.88 million tonnes from February to 246.16 million highlighted by a projected decrease in crush of one million tonnes for Argentina. Despite the larger South American output, USDA kept its export forecasts unchanged for both Brazil and Argentina at 77.0 million and 8.2 million tonnes, respectively.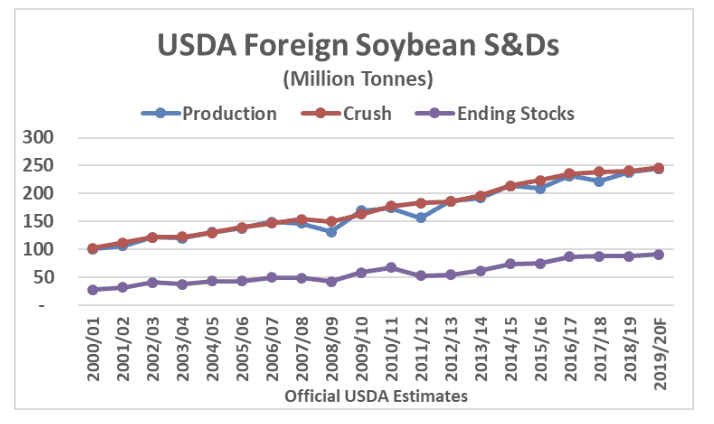 The combination of larger South American output and reduced domestic usage prompted USDA to raise its foreign ending stocks projection 3.57 million tonnes to 90.88 million. If realized, USDA's latest carryout projection would be an increase of 3.75 million tonnes from the previous year and would be a new record-large carryout for a now, sixth-consecutive marketing year. The key takeaway from this month's update from USDA is that U.S. soybeans are expected to remain competitively priced relative to growing ideas of South American new-crop supplies.