Indonesia's U.S. Department of Agriculture's (USDA) attaché office in Jakarta issued its Oilseeds and Products Update January 2019 in mid-February. In the report, the office outlined the current fundamental outlook for the country's palm oil and soy/soy products markets. According to the office, total domestic consumption is expected to fall just shy of USDA's official estimate at 3.07 million tonnes. In its February update, USDA projected that 3.240 million tonnes of soybeans would be consumed domestically. Despite the minor difference between the attaché office and numbers out of Washington, the bottom line is that declining domestic production is expected to result in a greater need for soybean imports.
The chart that follows shows USDA's historical estimates of Indonesian soy harvested and production since the 2000/2001 marketing year. Over the period, Indonesia's soybean output has dropped nearly in half from 1,020 thousand tonnes in 2000/2001 to a current estimate for the 2018/2019 marketing year of just 520 thousand tonnes. This has come as harvested acreage has been cut in half from 825 thousand hectares in 2000/2001 to just 410 thousand in 2018/2019. According to the attaché office's Oilseed and Products Annual Report 2016, the archipelago nation has been unable to bolster soybean plantings in recent years as farmers have experienced low yields and reduced profitability when compared to other crops such as corn or rice.
According the USDA attaché office, however, in early January 2019, a senior official from the Ministry of Agriculture (MOA) discussed with local media the possibility that soybean importers must plant and/or procure local soybeans in order to receive import licenses. A similar program currently exists whereby garlic importers are required to produce 5 percent of their requested import volumes domestically, but there does not appear to have been any further details released as of this writing.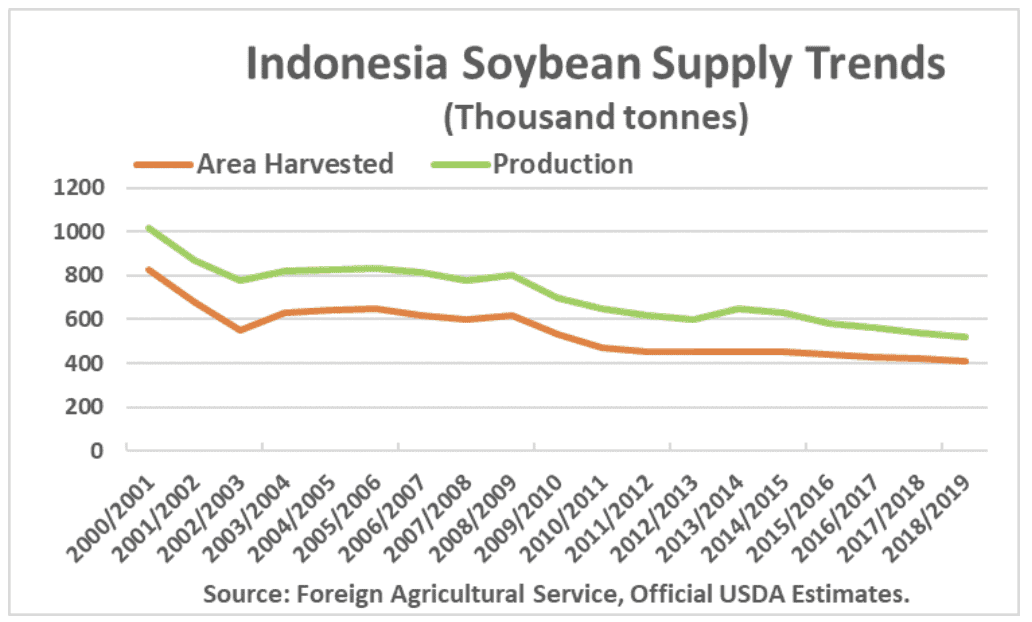 According to the 2016 attaché report, Indonesia's demand for soybeans is dominated by human consumption, and not feed for livestock. Consumers have developed a preference for U.S. soybeans due to, among other characteristics, their uniform size, color, and suitability in tempeh and tofu manufacturing. Indonesia's soybean imports have been on a mostly steady upward trajectory since 2011/2012, going from 1.127 million tonnes to a projection of 2.725 million tonnes in 2018/2019. Domestic consumption has risen over the period, despite rising incomes from a growing middle class. The chart that follow shows a near 1:1 correlation between Indonesian domestic consumption and required soybean imports. Ample U.S. soybean supplies and cheapening ocean freight costs are expected to keep the U.S. competitive into Indonesia despite the approach of new-crop South American soybeans.