An aggregation of historical Federal Grain Inspections Services (FGIS) data shows that non-Chinese buyers have shown a growing preference for receiving U.S. soybeans in container shipments over recent years. A compilation of FGIS weekly inspections data going back to 2014 shows that U.S. soybean exports shipped in containers has risen from 2.0 million tonnes in both the 2014/15 and 2015/16 marketing years to reach 2.8 million tonnes in 2017/18. When annualized, data for the September 2018 through January 2019 timeframe suggests that container shipments for the September 2018 through August 2019 marketing year would grow by 18 percent to reach 3.3 million tonnes.
The data over the 2014/15 to 2017/18 marketing years by destination clearly indicate buyers in Southeast Asia are the largest market for container loads of U.S. soybeans. Indonesia is the top non-Chinese buyer at 1.3 to 1.4 million metric tons (MMT) per marketing year and accounts for 42 to 55 percent of all container shipments since the 2014/15 marketing year. Thailand has been the second largest non-Chinese destination for containers of U.S. soybeans at between 276,000 and 600,000 tonnes, or 14 to 21 percent of all shipments.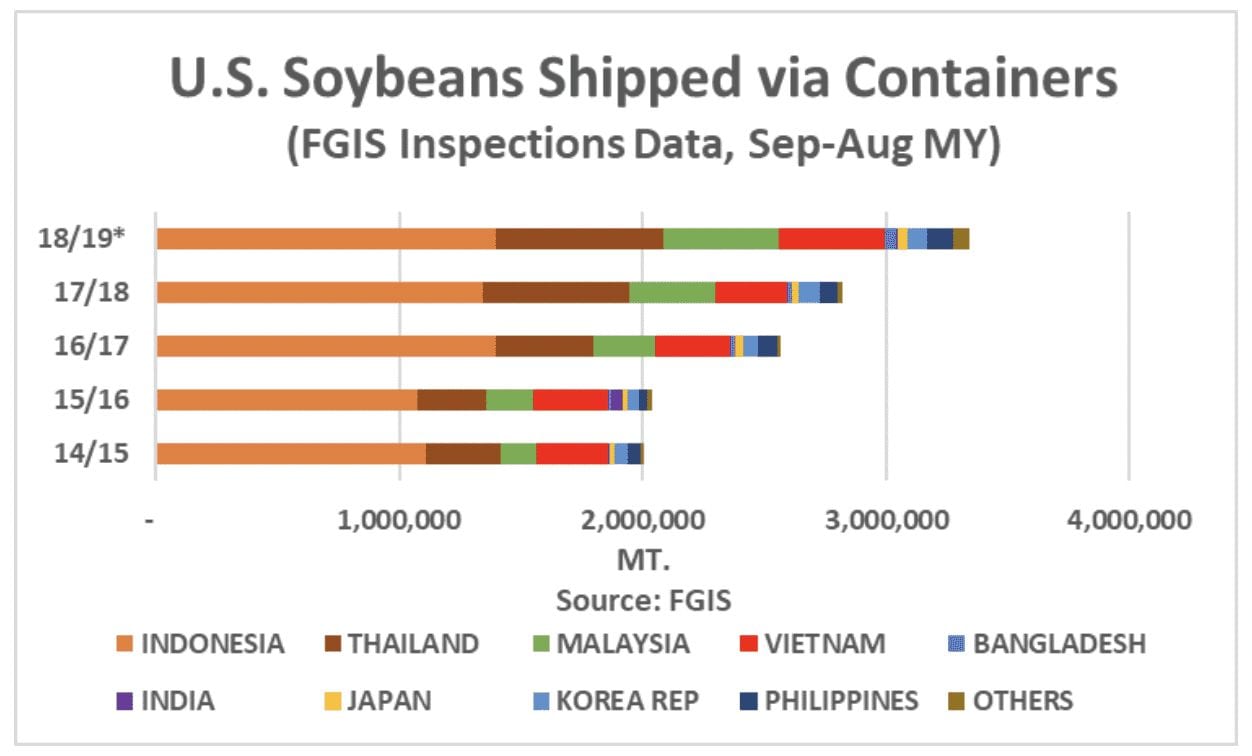 Source: FGIS Inspections data
There are both economic and non-price factors that are driving demand for the container shipments of U.S. soybeans. Eric Woodies, Trade Analyst for the Illinois Soybean Association, noted that container lines want to develop trade routes to major apparel productions sources in Southeast Asia as often these containers are returned empty from the U.S. Back-hauling the containers with valuable U.S. soybeans helps to improve the profitability of shipments when product flows back-and-forth.  U.S. soybean shipments in containers also have the benefit to smaller buyers that may not require bulk volumes. The smaller volume buyers often would prefer 25 tonne lots versus Panamax vessels shipping 60,000 tonnes.  The buyers can avoid infrastructure requirements that are necessary to unload, receive and store the extra volume of soybeans, which allows for smaller quantities to be shipped and smaller market manufacturers.
There is a natural evolution however, due to economies of scale, that as the market grows the customers may eventually shift shipments of U.S. soybeans from containers to bulk vessels. On a per tonne basis, it is cheaper to ship a vessel of soybeans than an equivalent number of containers. Still, containers play an important role in aiding market development.  As infrastructure becomes available, there may be a notable shift from receiving shipments of soybeans in containers to bringing in bulk shipments.