As the calendar turns to 2020, so too has the market's supply focus swung from the recent U.S. harvest towards the prospects for the upcoming South American soybean crops. In this article, we will take an in-depth look at the latest planting progress, crop conditions and production ideas, along with a look at two key features that are expected to determine the desirability of soybean supplies in key exporters of Brazil and Argentina.
Background
To refresh readers, the beginning of September typically marks the start of the earliest soybean plantings for farmers in South America. In Brazil, farmers must wait at least sixty days between the harvest of one soybean crop and the planting of another. This industry standard rule is intended to prevent the spread of fungal diseases, such as soybean rust, which can spread from one crop to the next. That period is dependent on the region and for this year, the starting date in Parana was September 11 while Mato Grosso farmers could begin seeding on September 15. Argentine soybean farmers must wait longer to begin seeding soybean fields and have traditionally begun seeding their crops in earnest beginning in November as the sun continues drifting further into the southern hemisphere, bringing with it longer and warmer days.
It is helpful to be reminded as to where key South American soybean production areas lie. The following maps show the dispersion of soybean production in Brazil and Argentina, along with each country's major states' percentage of output between 2014-16. One can see from the first map that the greatest portion of Brazil's soybeans are grown in the center-west region, which includes nearly 30% of overall output in Mato Grosso. In general, production shifts to the southeast into Goias and Mato Grosso do Sul along with the far southern states of Parana and Rio Grande do Sul. The second map focuses on central and northern Argentina, where the nation's soybeans are grown. Looking at Argentina's recent soybean production output by soybean-producing district, Buenos Aires is the largest at just over one-third of the 2014-16 output, followed by Cordoba (28%), Santa Fe (13%), and Santiago Del Esterio (5%).

Soybean Planting Progress, Conditions 
According to local Brazilian consultants AgRural, farmers had reportedly seeded 93% of intended soybean acres by December 5 versus 96% at the same time last year. AgRural reported that seedings were completed in Mato Grosso in early December, while progress was playing catch-up in the northeastern portion of the country in the Matopiba region consisting of the states of Maranhao, Tocantins, Piaui, and Bahia along with the far-southern Rio Grande do Sul.
Argentina's Buenos Aires Grain Exchange (BAGE) also releases weekly planting and development updates throughout the growing season. The latest data as of December 25th pegged the seeding of Argentina's 2019 first soybean crop at 89.8% complete. This was up 3.9% from the previous week and compared with 94% last year and the previous five-year average pace of 91.0%. 
The following maps show the latest 30-day precipitation anomaly for Brazil along with the latest seven-day forecast. The general bias for Brazil has been one of mostly below-average precipitation denoted by the rust-colored regions mostly favoring the eastern portions of the country. This same area is expected to receive considerable precipitation in excess of three inches over the first week of the new year. There also have been isolated pockets of above-average rainfall in Mato Grosso, Mato Grosso do Sul, Sao Paulo and Parana over the past month and these areas are expected to trend dryer in the beginning days of the new year.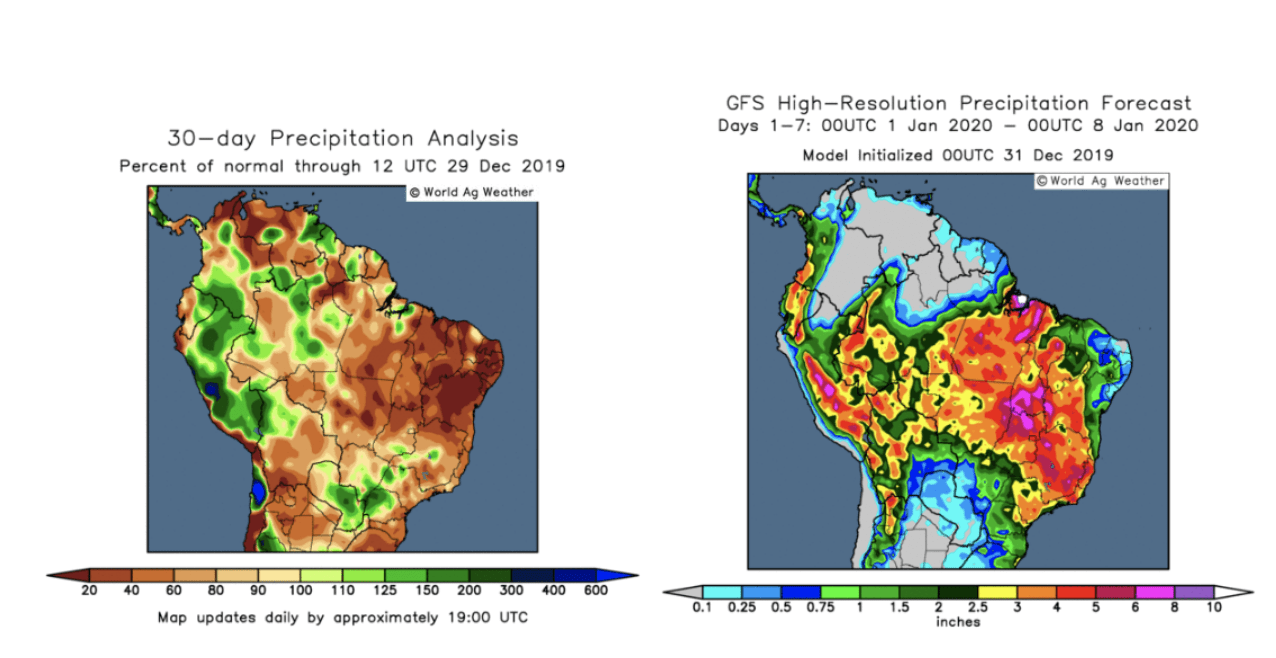 Similar to Brazil's precipitation pattern, the last month has leaned mostly dryer-than-normal for much of Argentina. There has, however, been a favorable area of above-average precipitation focused on Cordoba and Entre Rios. Looking ahead to the seven-day forecast horizon, the majority of Argentina is expected to feature a drying pattern with much of the moisture shifting northward into Brazil. While this will allow farmers to finish the remaining intended soybean acres, additional moisture will be needed to return to help boost early plant development. In addition to the planting progress, BAGE issues weekly crop condition ratings that are similar in structure to the U.S. Department of Agriculture's (USDA) weekly updates that break out the crop in buckets by 'Very Poor,' 'Poor,' 'Fair,' 'Good,' and 'Excellent' conditions. Latest data sees 52.7% of the crop rated in either 'Good' or 'Excellent' condition versus just 32.1% in the same period last year.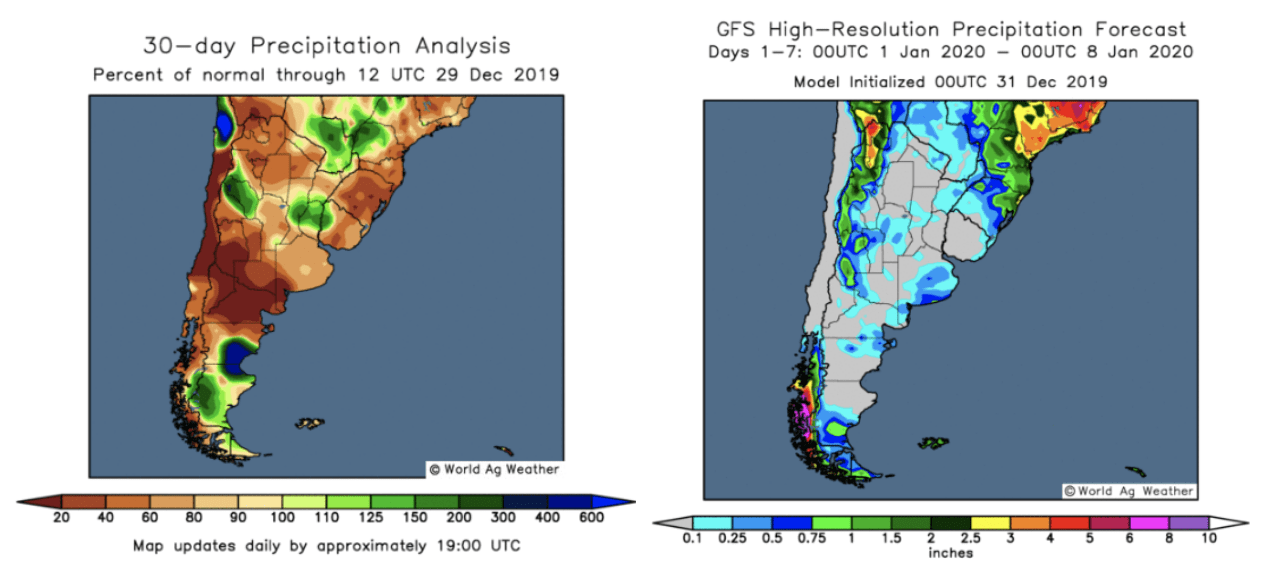 Latest USDA Crop Ideas
USDA made no changes to its latest crop ideas for the upcoming Argentine and Brazilian soybean harvests in its December World Agricultural Supply and Demand Estimates (WASDE). Brazil is expected to harvest a crop of 123 million tonnes which, if realized, would be up 5.1% from 117 million collected in the 2018/19 marketing year. Brazilian soybean yields are seen improving by 2% from 2018/19 to reach 3.33 tonnes per hectare in 2019/20 in addition to a 3% increase in harvested area. USDA's WASDE called for Argentina's soybean output to decline 4.2% from 2018/19 to total 53.0 million tonnes in the upcoming 2019/20 harvest. USDA projects that Argentina's harvested area will expand by 5% to reach 17.5 million hectares, while the expected yield is seen slipping 9% from last year to 3.03 tonnes per hectare. It is somewhat perplexing that local crop watchers in Argentina see improved crop conditions compared to last year while USDA is projecting for a year-over-year decline in yields and output.
Brazilian Sustainability Concerns
Growing populations and developing consumer preferences towards greater protein consumption are two global features that are expected to boost demand for soybean products in the coming years. Brazil, unlike many major grain and oilseed producers, has a considerable amount of land available to be converted into agricultural production. This is a feature that has helped to fuel the expansion of Brazilian soybean production since the 21st century, but along with the expansion have come increased environmental concerns regarding the areas that have been converted from natural habitats to growing soybeans.
Recent trends in the development of the Amazon region of north-central Brazil have brought greater soybean plantings over the past decade, along with negative attention regarding the sustainability of Brazilian soybeans. According to figures published by Brazil's Vegetable Oil Industry Association (ABIOVE), soybean plantings in the Amazon Biome region have grown 170% from 1.7 million hectares in 2008 to reach 4.6 million hectares by 2018. Future growth is expected to be limited, however, due to the Soybean Moratorium, which was signed in July 2006 and prevents the financing and/or marketing of soybeans produced in forested areas before July 22, 2008. The following map highlights the two areas of Brazil that are of particular interest to environmental groups – the Amazon and its neighboring Cerrado region. While the current writing of the Soybean Moratorium applies only to the Amazon Biome, environmental groups have been pushing for further protection to encompass the Cerrado to the east where a greater dispersion of soybean production was shown to have occurred between 2002 and 2013.
Brazil's President Jair Bolsonaro has promoted expansion of farming activities in his first year in office and has reportedly entertained ideas from farmers in recent months to end the soybean moratorium. According to the Wall Street Journal, this latest development has been met with strong opposition in the form of an open letter from more than 80 retailers, investment firms and other companies calling for the moratorium to remain in place or otherwise risk existing business with Brazilian soy. While no official change in policy has been made as of this writing, the uncertainty surrounding Brazilian deforestation underscores the importance of sustainability and the advantages of proven, sustainable U.S. soybean production.
Argentina Export Tax Changes
The return to power of the popular, or Peronist, party in Argentina has brought with it anticipated changes to the country's export tax structure. The greater taxes are focused on grain, oilseeds, and other agricultural products needed to help bolster the local economy as Argentina struggles to fight ongoing inflation and repay bondholders and a record loan provided by the International Monetary Fund. When the Peronists, led by then-president and current vice president, Cristina Fernandez de Kirchner, left office in late 2015, soybean exports were taxed at a rate upwards of 35% while export taxes on the soybean products including soybean meal and soybean oil saw a smaller taxable rate to encourage domestic crushings at the expense of exportation. The new taxes are interpreted to have increased levies on soybean and soybean products by about five percentage points and kept taxable rates equal between soybeans and the products at nearly 30%. On December 16th, the government closed the government office that issues export registrations ahead of the latest changes to Argentina's export taxes.
There has been some debate as to what kind of impact the new tax structure will have on the availability of Argentine soybeans on the global market. Expected increases in taxes with the return of the Peronists have prompted many farmers to sell a larger portion of their upcoming crop ahead of harvest this year to avoid being docked for the taxes via lower basis prices at the farmgate, but there is risk to the farmers if selling bushels before they are produced. While these initial changes have been made, one cannot rule out the possibility for further increases should the new administration struggle to meet growing financial needs as the Peronists have been proven to rely heavily on agricultural exports to fund the government. Another ramification of the new tax structure will play out in the coming years, as farmers react to changing farm prices and input costs when determining their planting decisions. All else being equal, the greater taxable rate on soybean and soybean products may shift some acres from soybeans to other grains should cash prices appear more attractive. This would help to reverse what has been a new trend of expanding soybean plantings in Argentina experienced in recent years.
Summary 
While recent changes in global soybean trade routes have undeniably brought greater demand, and in-turn a response for greater acres, for South American soybeans, there is plenty of uncertainty ahead of the beginning of the 2019/20 harvest. History suggests that new-crop supplies will begin to trickle into the commercial system in the coming weeks and the final soybeans likely will not be collected until the end of May. This extended window leaves plenty of time for growing conditions to change and result in additional adjustments in new-crop supply ideas as the crops develop.
There are, however, several considerations that global buyers must consider when potentially looking south for soybean and soybean products. Two of these considerations outlined in the article above include potential Brazilian sustainability concerns to limit future acreage increase along with recent changes to Argentina's tax structure favoring domestic crushing over soybean exports. These are just two factors for buyers to weigh beyond the size of upcoming harvests when looking at the short-term and long-term availability of South American soybean supplies.