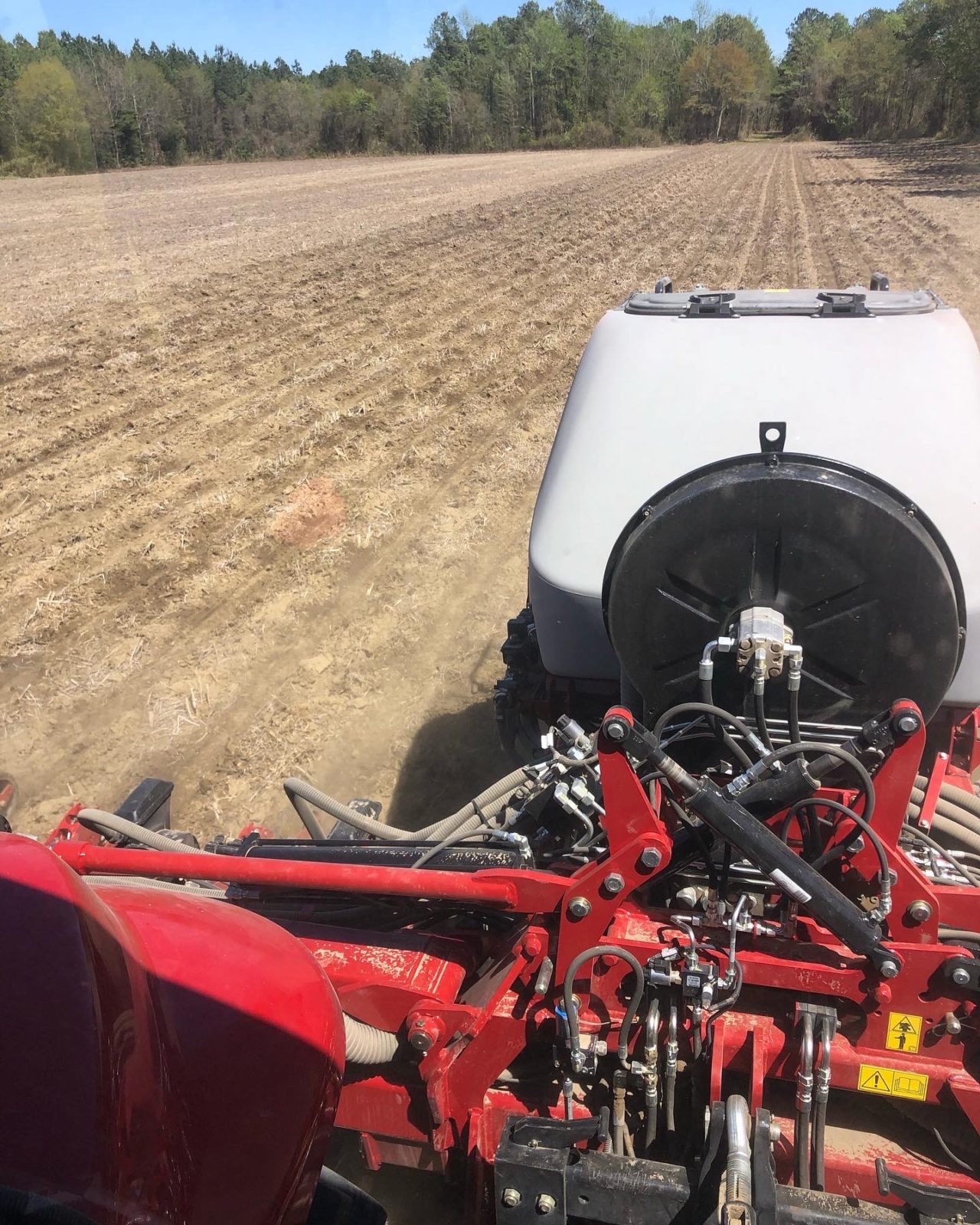 April weather has been cooler than average in our area of the southeastern U.S., with temperatures dipping below 4°C, or 40°F, in the middle of the month. Because of similar cool temperatures in early April, we started planting corn a week later than usual. While the calendar is a guideline for when we plant, we follow what Mother Nature allows.
We expect to finish planting corn by the end of the third week in April. It is the first crop we plant. The rest of our crops will be planted throughout the next month.
Our crew started transplanting tobacco plants to the field on April 21. Our tobacco seedlings were started in a float bed in a greenhouse in February. One of my neighbors who is a retired tobacco farmer grows our plants in the greenhouse for us. As the weather warms up, we will plant cucumbers. We aim to start planting soybeans at the beginning of May and should be able to plant sweet potatoes around May 20.
While our corn is recently planted and our soybeans will go in the ground soon, we are constantly converting the protein and nutrients from these crops to high-quality protein through our pigs and our turkeys. The uniformity of nutrients and the amino acid content and profile in our soybean meal supports digestibility and energy available to our livestock.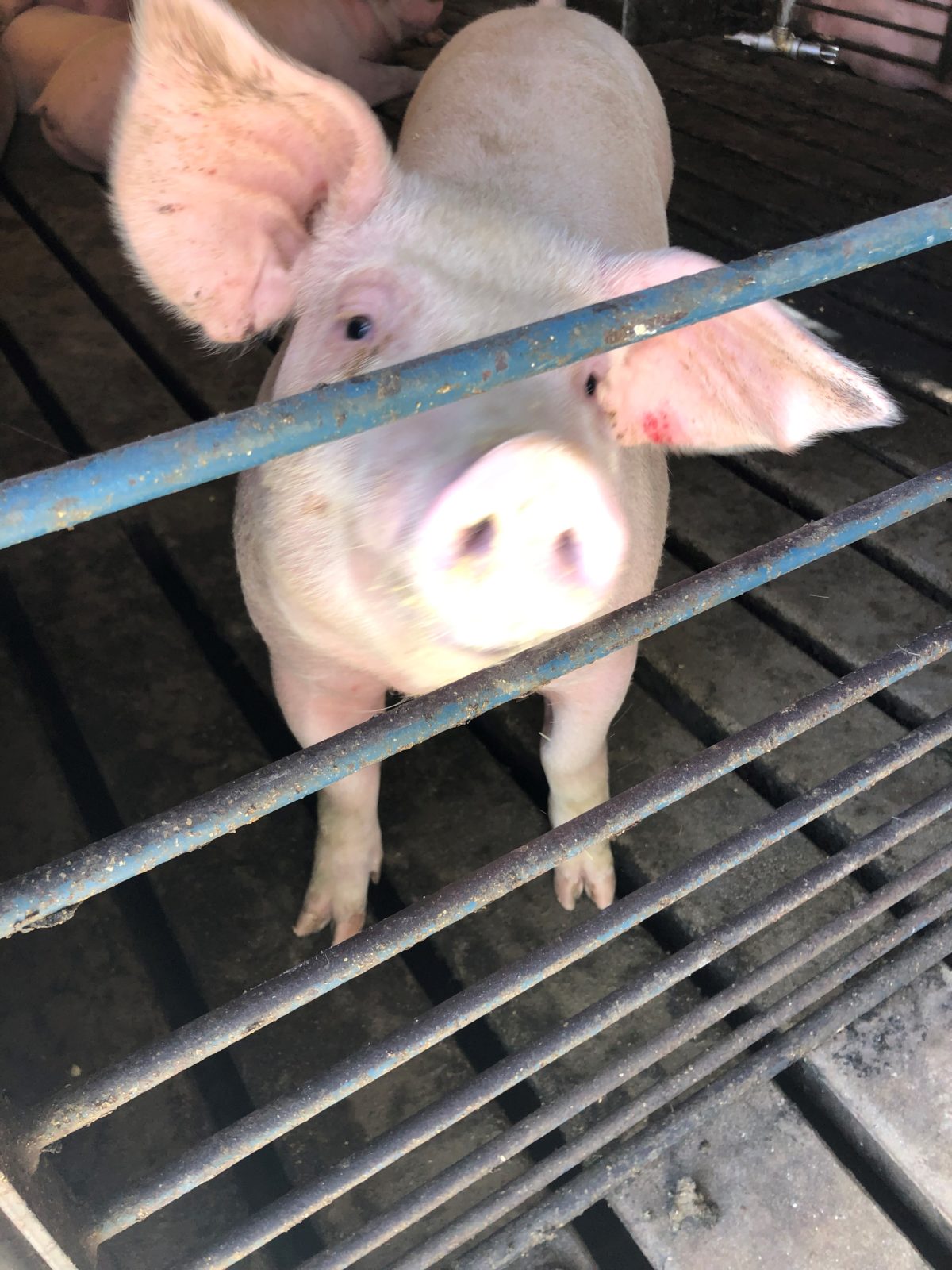 We have what's called an "all-in" system for raising pigs. We fill our barns with about 9,000 of the same size pigs within two weeks. That means all the pigs on our farm are about the same size. We got our current pigs when they weighed about 20 kg, or 45 pounds. Our current group of pigs now weigh an average of 64 kg, or about 140 pounds. We will continue to care for these pigs for 8 to 10 weeks.
Every Monday, we inventory the feed available for our pigs, and let Prestage, the company we raise swine for, know what feed we have left. The company typically delivers feed at least once per week, and soybean meal is a key ingredient in that feed.
For our turkeys, avian influenza, or bird flu, has been a serious issue in our area of North Carolina. Our farm is in the middle of a region where this very contagious disease has been found. I like to remind people that bird flu isn't transmissible to humans — and poultry and eggs that are properly prepared and cooked are safe to eat, even from the meat of infected birds. But the chance of infected poultry entering the food chain is extremely low, according to the USDA's Food Safety and Inspection Service. However, among poultry it is so contagious that birds carrying the virus can't be transported. I've had neighbors who have recently had to depopulate their farms to manage it.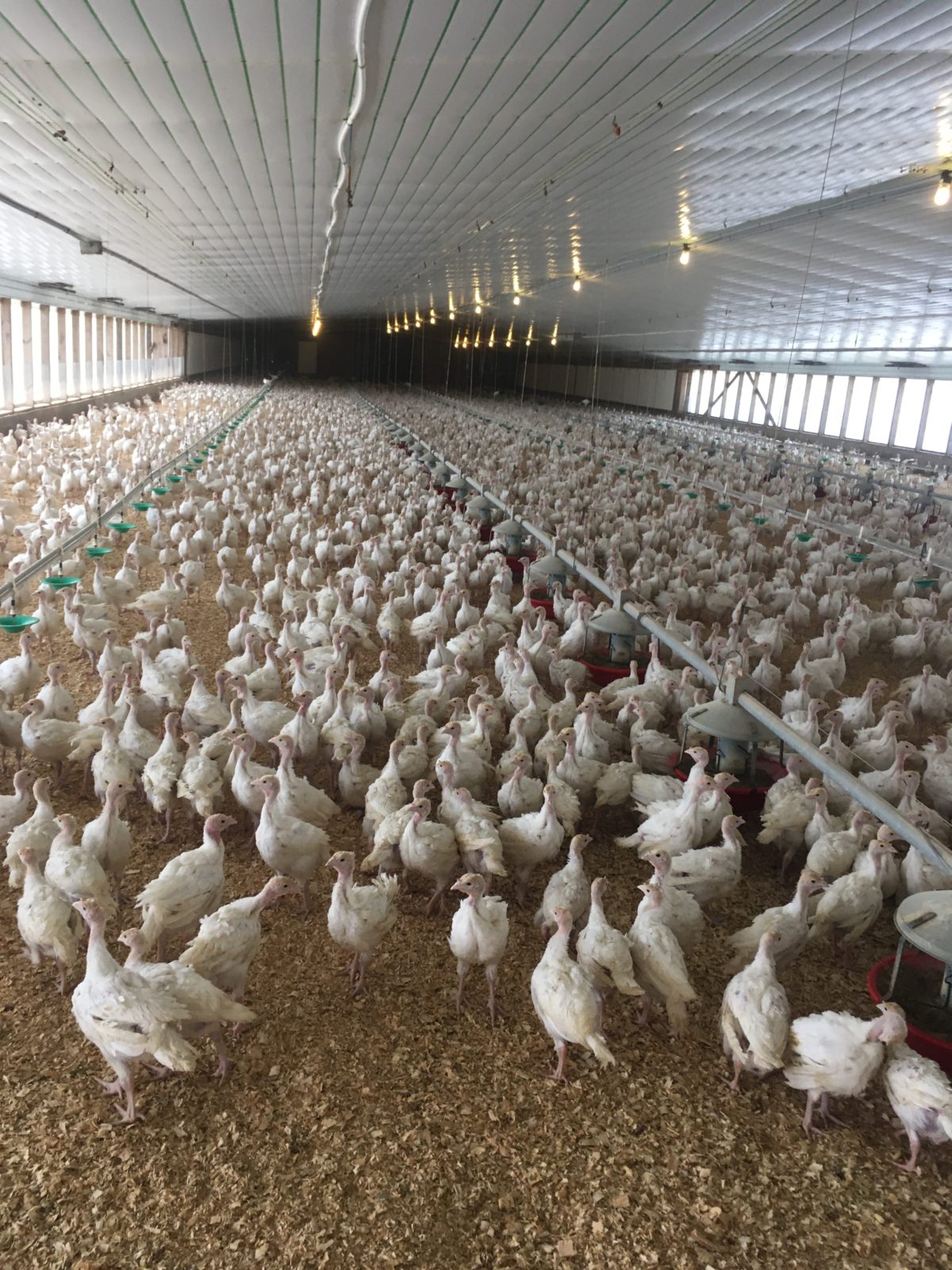 We have been fortunate so far. Our six turkey barns were emptied in late March, and we cleaned them thoroughly. I had hoped to keep them clean and empty until the threat of bird flu in the immediate area had passed. While avian influenza is devastating for poultry farmers in my area and other parts of the country, thankfully this outbreak is much less severe in the U.S. as a whole than the outbreak in 2014-2015.
Butterball, the company we raise turkeys for, had new birds that needed a place to be raised and contracts to continue filling. They brought us poults that were 34 to 35 days old, on April 15. These young birds had been at a brooder farm just after they hatched. When they arrived on our farm, they averaged about 1.6 to 1.8 kg, or 3.5 to 4 pounds, and they fit in our hands.
When they arrive, the young turkeys find the feed and water we have waiting for them within seconds. They see and smell it and acclimate quickly to nourishment in our barns.
We will do everything we can to protect them from contracting bird flu. We practice careful biosecurity measures, not allowing others on the farm and ensuring we are clean and disinfected before entering each barn. Our six barns are next to each other at a single location that we will do our best to keep isolated.
We love the animals we raise, and I can't imagine having to depopulate our barns because of bird flu. I've had long conversations with a friend and a family member who did have to do that in the past couple weeks. While the financial cost is a challenge, it is the mental anguish of euthanizing the birds they are caring for that is the hardest part. I am praying that I won't experience that personally, but we are in the midst of a very difficult situation right now.
At the same time, we are focused on getting our crops planted, so we can produce plenty of food for both our animal and human customers.