We try new things every season to continue to improve our farm and its sustainability. Because of the short growing season and heavy clay soils in our region of the northeast United States, we aim to start planting both soybeans and corn at the beginning of May. We are working to be ready by then.
For more than 30 years, we have used a no-till system that does not disturb the soil. However, during a local drought a few years ago, our corn did not develop a strong root system. Our agronomist recommended that we place corn fertilizer deeper in the soil, in order to encourage better root growth. This year, to address that issue, we plan to strip-till our corn for the first time.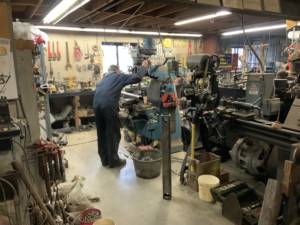 My sons, Rodman and Ben, are building a piece of strip-till equipment that will just disturb a narrow strip of soil to place fertilizer about 15 centimeters, or 6 inches, below where corn seeds will be planted. We bought a frame and strip-tiller that they are putting together to fit our corn rows, which are planted 76 cm, or 30 inches, apart. Rodman has been welding the frame to strengthen it, and in the photo, Ben is using a machine to make a new hitch to hook the strip-tiller to one of our tractors. We enjoy building custom equipment that allows us to improve our crop production.
This fall and winter have been drier than average, so we hope to immediately see the benefits of this practice. We plan to strip-till all of our corn this season, although it may slow down our typical planting process. Because we will continue to no-till our soybeans, we plan to apply a bit of extra fertilizer that the corn will not use when we strip-till, so that it will be available for our soybeans the following season.
We keep very thorough records for our fields, going back up to 40 years. Those records allow us to track how new practices impact our soil health and crop yields over time. These records also reinforce the value of the agronomic program we have developed for each of our fields and our crop rotation. We plant crops based on that program, rather than market signals, because that supports our long-term environmental and financial sustainability.
Most years, we plant about 688 hectares, or 1,700 acres, of soybeans and 607 hectares, or 1,500 acres, of corn. The heavy clay soils in a few fields do better with three years of continuous soybeans rather than the traditional corn-soybean rotation.
Last fall, we also planted 81 hectares, or 200 acres, of winter wheat. To get the most out of our short growing season, we spread the wheat seed into standing soybeans when about half of the soybean leaves had dropped. The remaining soybean leaves dropped on top of the wheat, creating a perfect mulch for it. A couple of rains helped the wheat germinate, and after we harvested the soybeans, we had a great stand of winter wheat, as you can see in the picture. In the picture, if you look closely, you can see last year's soybean rows and corn stalks from the year before that.
That wheat is just starting to come out of dormancy, which could be a problem, as we can get cold weather and frost until the beginning of May. However, we are applying liquid nitrogen fertilizer right now to support it as it "wakes up" from the winter, and we plan to apply a bit more nitrogen next month, as it continues to turn green and starts developing grain.
We also are delivering our 2020 crop of soybeans and corn to our customers. The soybeans are delivered to a processor about 32 kilometers, or 20 miles away. The processor delivers soybean meal to the nearby feedmill, and after emptying the trucks there, they come to our farm to pick up a load of whole soybeans for their return trip. At the same time, we are delivering our corn to that feedmill, which is just about 6 km, or 4 miles, from our farm.
While doing all this, we are appreciating any rain we get, in order to make up for the surprisingly dry soil left after the snow melted earlier this month.