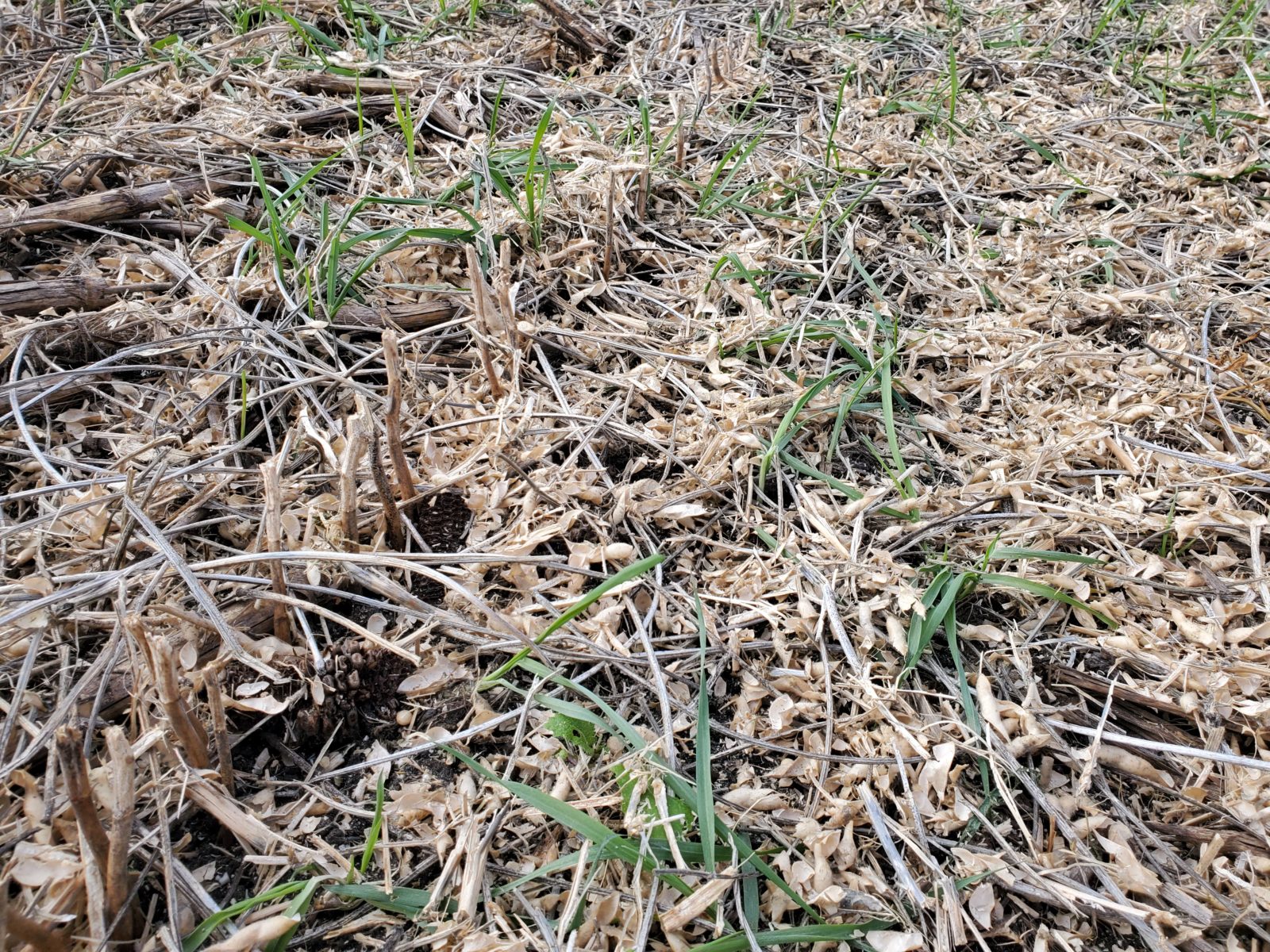 After managing drought conditions all season, we received more than 13 cm, or 5 inches, of rain the last week of October. Two different systems dropped all-day rains on our very dry fields. We couldn't have asked for more perfect rains. We just didn't get perfect timing.
We still have more than 55 hectares, or about 140 acres, of soybeans left to cut. Plus, we have more than 280 hectares, or about 700 acres, of corn left to harvest. Now that days and nights are cooler, it will take longer for fields to dry out enough for us to get back into them to finish and make progress with other fieldwork.
Several major equipment breakdowns during October caused us to lose five or six days of great harvest weather. For example, we had to replace belts that turn our soybean draper head — which we bought new last year. Replacement parts for farm equipment are victims of supply chain issues that are impacting many industries. Thankfully, our equipment dealers worked hard to help us get the parts we needed. One company even sold us replacement parts from the auger cart sitting in front of their building as branding.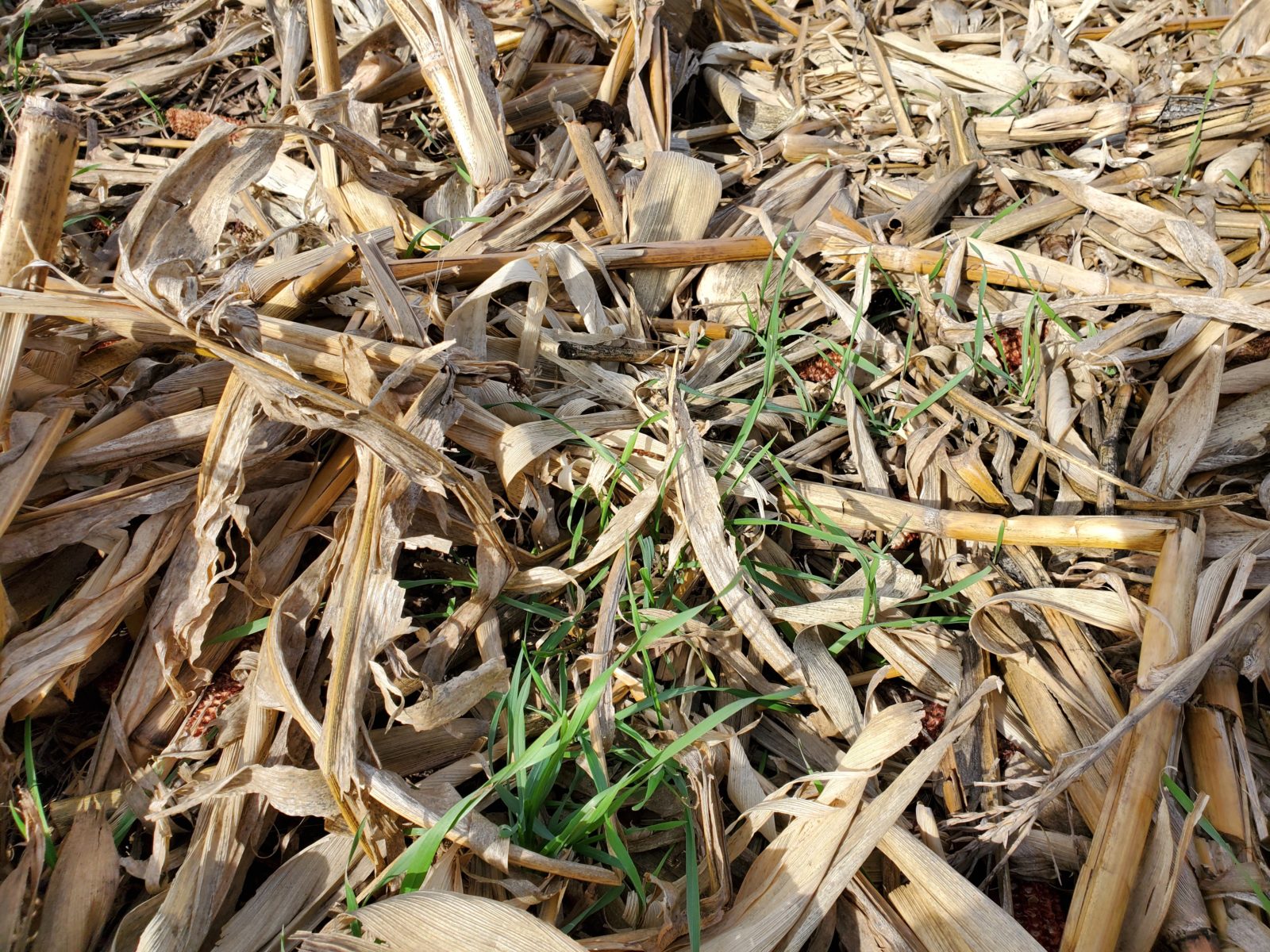 Despite the delays, our yields for both soybeans and corn continue to be above average and even well above average, exceeding our expectations. We have no agronomic explanation for the corn yields we've gotten under such difficult conditions. But we certainly won't complain about them.
The cover crops we've planted have emerged, and they are doing well in most fields. However, some soybeans grew taller than usual this year, another thing we can't explain agronomically. Winds earlier this fall caused some of those soybeans to blow down, laying over the ground. In those areas, the cover crop didn't do as well.
We plan to try a new relay cropping system in a small field this year. We planted 16 hectares, or 40 acres, of rye into standing corn this fall. We plan to plant soybeans into the rye next spring, and the crops will grow together. Then we will try to harvest the rye above the soybeans in late June. The rye will be used as cover crop seed next year. While we have experience growing small grains in the past, this will be the first time we've tried to harvest two crops like this in the same year. It should be interesting.
While we still need about three weeks of good weather and no breakdowns to finish harvest, we are also preparing for the rest of our fall fieldwork. During the first couple weeks of October, we had the manure from our pig barns applied to about 101 hectares, or 250 acres, of harvested soybean fields that will be planted to corn next year. We hired a manure applicator to inject the nutrients from our pigs into the soil, following our nutrient management plant. We apply it on different fields every year, as we've gotten a 10 to 15% yield increase in corn yields compared to fields without manure.
However, we have many more acres that will be planted to corn next year that need fertilizer. We plan to strip-till those fields this fall, placing nitrogen into the strip where the seeds will be planted next spring. We pre-paid for our fertilizer much earlier this year, and got very reasonable prices. But if we don't get all of that nitrogen applied this fall, we will lose our pre-pay investment and have to pay market prices next spring, when nitrogen could cost twice as much as it does now.
As soon as the fields dry out enough to allow us to strip-till, either my son Schyler or I will start doing that, and we will have one less person working on the rest of harvest. Hopefully the weather will cooperate with us in November and beyond.
Our new group of young pigs is settling into our barns. Usually we get pigs from within the company we contract for, so we have all the support we need to take care of their health. We currently have pigs brought in from outside our system, so we are all less familiar with their genetics and health tendencies. That means it takes our veterinarian and us longer to effectively take care of health problems as they come up. This group has needed a lot of attention and care, which is a challenge while we are also harvesting.
While this fall has not been easy, we are thankful for the surprisingly strong yields. And we will keep working long days when the weather allows, to get the work done.
This field update is funded by the soybean checkoff. To share or republish part or all of this Ground Work 2021 article, please link to the original article and credit www.USSOY.org.