The unseasonably warm, dry March in our area of Michigan, in the eastern United States midwest, has us anxious to start planting, but it still will be nearly a month before planting really gets underway. We would like to get some rain so that the soil has more moisture.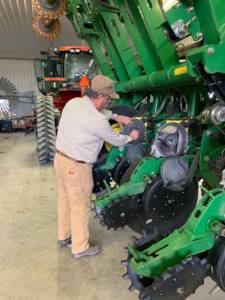 While we wait, we have been getting our planters ready to go. We have found that spending time ahead of the season checking for worn parts saves valuable time by minimizing breakdowns in the heart of planting season.
We also check for updates to the software and technology we use in the tractor cab. My husband, Jim, recently attended a technology training that will help him manage the many tools we rely on to practice precision agriculture and collect data that helps us learn how to keep improving. I shared a bit about our farm during a virtual blog event.
Our seed, fertilizer, and other inputs are being delivered to the farm, and we have been looking at past data to figure out where we will plant specific soybean varieties and corn hybrids. Although we are encouraged to see soybean prices increasing, evidence shows that export demand is strong and that prices do not impact what we plant. Even with the improving prices, there is not a dramatic difference between the profitability of soybeans and corn for our farm. We generally maintain our soybean-corn rotation that we believe provides soil fertility benefits. If a field was planted to corn last year, we likely will plant soybeans this year. Additionally, if soybeans were planted last year, we will most likely plant corn this year. Every year, we plant about 222 hectares, or 550 acres, of each crop.
First, we will plant a couple of soybean fields early – before mid-April. That usually is two to three weeks before we plant the rest of our soybeans. We have found that planting some soybeans early spreads our risk. If April weather turns cold again, the soybean seeds are resilient and will wait until the soil warms up to germinate. If we get a dry spell in the middle of the summer, these fields will pollinate and start filling pods a bit sooner. We continue to collect data on this practice, but we have found that these fields usually yield a bit better than average.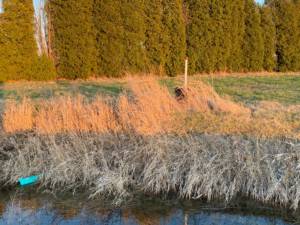 We always want to find out what we do not know. Because of that, we always have new projects going to figure out how we can take better care of our resources. Our family recently was honored to receive a Conservation Legacy Award from the American Soybean Association, recognizing those efforts.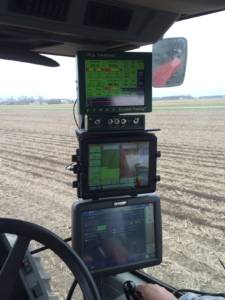 Many of those projects and management practices focus on nutrient management and water quality. The land we farm once was a part of Lake Erie, and over time, it became swamp. When the land was able to be converted to agricultural use, it tended to have excess water. Today, almost all our land is tiled, meaning it has sub-surface pipes that help drain the soil. The tiles drain into ditches and streams that eventually flow to Lake Erie.
We are participating in a multi-year study with Michigan State University, the Michigan Department of Agriculture and Rural Development, and the Michigan Environment, Great Lakes and Energy Department to carefully monitor the water leaving our farm. High-tech measurement of tile water helps us learn if our management practices are keeping our nutrients for our crops and protecting our water quality.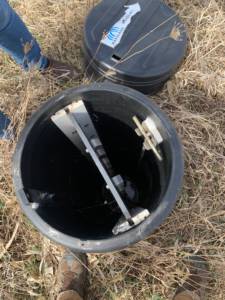 For example, in the fall, we plant cover crops and strip-till the soybean fields that will be planted to corn the following spring. That means we disturb a narrow strip in the soil and apply some fertilizer in it. The following spring, we plant corn directly into that strip. When planting corn, we place fertilizer 5 centimeters, or 2 inches, below and to the side of the seed. In both crops, the nutrients are placed where they are most accessible to the growing plants, and least likely to move out of the soil.
We are trying advanced management practices, as well. We always have used filter strips at the edges of fields and near bodies of water. These strips of grasses and other vegetation slow the movement of water and filter out soil sediment and nutrients. A few years ago, one of these strips was converted to a saturated buffer, which uses perforated drainage tiles to force drainage water through the soil in the buffer strip. The soil and plants in the saturated strip absorb and break down extra nutrients in that water. We collect data to see if this practice improves water quality or impacts our crops.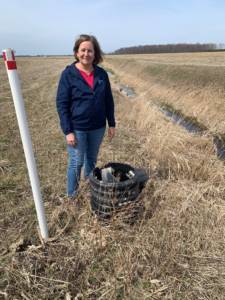 Another experimental project is using water control structures to slow drainage from the field tiles. We have several of these water control structures, which have boards that allow us to slow the release of water held in the tiles. While this is a new effort, we want to learn if these structures can be used to better manage water from heavy rains. Then, if we have dry weather, we hope the retained water in the tiles can provide moisture for our crops.
As always, we are looking forward to planting our crops and watching them grow. And we will keep learning how we can continue to improve our farm for the future.