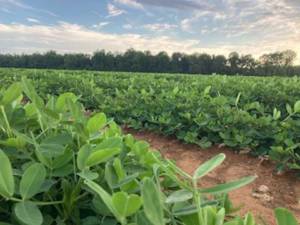 Our soybeans, and the rest of our crops, are looking good so far this season. This month, we have had adequate rainfall every few weeks in our area of the southern U.S. So far, we haven't been too dry or too wet, but I've heard from and seen other farmers dealing with both of those problems this year.
I am thankful for the rain, especially in July. But I also have plenty of work to get done in the fields. Timely applications of inputs are important as we come into the next phase of the growing season. If rains persist, we will depend more on the airplane and aerial applications to help us stay on time.
The single-crop soybeans just started blooming. We have been scouting for weed problems since they were planted. Fortunately, the herbicide applied right at planting, combined with the residue left in the field from our no-till system, have kept these soybeans relatively weed-free. We did make a second herbicide application around the edges of the field to clean up weeds there, but we only applied it where it was needed.
The double-crop soybeans got planted shortly after wheat harvest wrapped up in mid-June. They emerged well, and they are still in the vegetative growth stages, as expected. We are scouting these fields, and I expect to apply herbicide to control grass in these fields very soon. That will be one of the many things on my to-do list when the fields are dry enough for me to be in them with the ground sprayer.
The wheat crop was mediocre. Not our best crop, but not our worst. I have been shipping to a local mill, where it is roasted for animal feed and dove fields. We plan to ship more this week, and we hope to empty the bin in the next few weeks.
The single-crop sorghum is heading out, and the bees have been busy pollinating it. It looks good right now, but we are scouting it to see if any diseases develop. Fire blight is a problem for us, and I suspect we will be spraying for it very soon. The double-crop sorghum also emerged well and is looking good.
Our cotton has been blooming, and it looks good. I have been controlling weeds and applying fertilizer in these fields to protect yield and quality. Right now, we are deciding if and when we want to apply a growth regulator that will move the cotton from vegetative growth into full reproductive growth so that it sets a good crop of cotton bolls. When field conditions allow, I make this application. But because the fields are wet, an airplane may apply the growth regulator to some fields. Application timing matters, and we may not be able to wait for fields to dry out.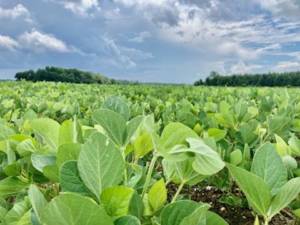 The peanuts look really good, and they are also blooming and putting down pegs, stems sent out from the flowers that grow the peanuts under the soil. We have reached the point in the season where they require a lot of attention. We apply fungicide every two weeks in peanuts to control diseases and protect crop quality. Again, when field conditions allow, I make those applications with our sprayer. As we are scouting, we are seeing broadleaf weeds in the peanuts, which I also plant to spray with herbicide when I can get in these fields.
In addition to helping our crops to thrive in the fields, I have been attending industry meetings. I am really proud of the work the U.S. soybean industry is accomplishing in research and other efforts to produce a sustainable, reliable supply of high-quality soy. Earlier in July, we had our first in-person meeting as a full board in more than a year. It was a productive meeting, and I am looking forward to the future. It felt so good to be meeting in person again!
Summer is busy. There is always something going on around the farm as we take care of our crops and do our best to provide optimum yield potential for all the crops we grow. However, our family still tries to take time to enjoy the summer season before the kids head back to school. Our daughters enjoy activities like our local Summer Festival, Vacation Bible School at church, swimming and as much time with friends as the farming schedule will allow. As we come into the final leg of summer, we pray for continued favorable weather conditions, increased yield potential and everyone's safety. Until next time, farm on!