It has been a strange spring. Much of April was cool and dry. However, by the last week of April, we started getting rains that slowed us down.
We started planting corn on April 14, and now we have between one-third and one-half of our corn fields planted. Much of the spring, we have two planters operating, and I usually run one of them.
As spring progresses, the urgency to get fields planted increases.
We had about 2.5 cm, or 1 inch, of rain on April 24 that kept us out of the field for a couple of days. With the weather forecast calling for another 2.5 to 10 cm, or 1 to 4 inches, of rain, we only had about 24 hours that we could be in the field the last week of April. I spent most of those 24 hours keeping the planter running. Besides driving the tractor, that means refilling fertilizer and seed as needed. Our 16-row planter is 12 m, or about 40 feet, wide. It applies liquid nitrogen with the corn seed. That fertilizer needs to be refilled every 12 to 14 hectares, or 35 to 40 acres. It holds enough seed to plant about 81 hectares, or 200 acres. I had plenty of time to sleep while it rained.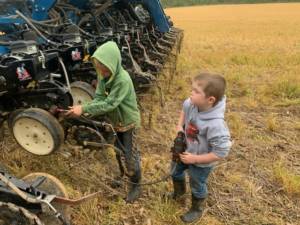 This year, every acre had cover crops, a mix of wheat, winter pea, crimson clover and tillage radish. We planted the cover crop into our soybeans last fall just as their leaves started to turn yellow. The soybean leaves provided a mulch to help the cover crop germinate, and the chaff generated when we harvested the soybeans in November also served as cover crop mulch. We terminated that cover crop mix with a burndown herbicide a couple weeks before planting. That allows us to no-till corn directly into the cover crop residue.
With another week of good field conditions, we should have our corn planted.
Almost all of our soybeans are double-cropped, so we won't plant soybeans until after we harvest winter wheat in several weeks. Our winter wheat looks really good right now. It is in the boot stage, and we believe it has lots of yield potential. We will start applying a fungicide to protect emerging wheat heads from disease in a few weeks.
When conditions are ideal for planting, they are also ideal for improving and maintaining many of the features that protect our fields from soil erosion. When we farm a field for the first time, whether we are renting it or own it, we work to protect the soil. Some of these fields are transitioning from tobacco or pasture to row crops.
So while I have been planting, other members of our team have been installing or fixing field tiles, catch basins and filter strips that help fields manage excess water. Tiles are tubes that run underground and allow water to leave the field. Catch basins are surface drainage features that direct surface water to those tiles to drain. And filter strips are vegetative strips where water flows on the surface of the field. The grass and plants in these strips slow the flow of water, allowing soil sediment and extra nutrients to be filtered out of the water, so that we don't lose that soil.
These efforts help ensure the long-term sustainability and productivity of fields. We know that the soils and topography in our area have potential for erosion, so we have to be good conservationists.
While we focus on planting corn, our pigs that will eat much of that corn continue to do well. We often say they are living in hog heaven, with plenty of clean water, good nutrition and a climate-controlled environment, which is ideal with the wide temperature swings we've seen this spring.
Once we finish planting corn, our attention will turn to side-dressing it with fertilizer, protecting wheat quality, and getting ready to harvest winter wheat and plant double-crop soybeans. Even though the rain keeps us out of the field, it does give us a chance to catch our breath. And that late-April rain system happened to coincide with a family wedding in Florida, so we could celebrate it without worrying about continuing to plant.