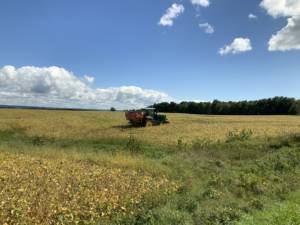 Our crops are maturing quickly. We had several days with a little rain through the first half of September. Then we had a few warm, dry days that should be setting us up to start harvesting soybeans the last week of September.
As the crops have been maturing, we've been planting winter wheat and cover crops. Our sustainability efforts like cover crops require just as much planning as our primary crops. We started by planting cover crops to the fields that had winter wheat that was harvested this summer.
During September, we've been planting crops into our standing soybeans. We use our tractor and a spreader to scatter seed into the soybeans. The tractor is on tracks instead of wheels and stays in established tramlines in the field that we have driven in throughout the summer so we don't damage the crop. Our goal is to disperse the seed into the crop when about have the soybean leaves have dropped. The other half of the leaves fall on top of the seed to cover it. The rain we've been getting has knocked more leaves off the plants and provided moisture that should encourage germination.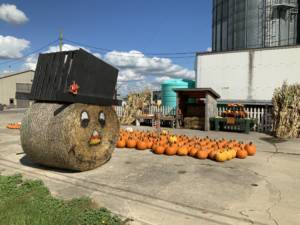 We plan to have something growing over the winter on all 688 hectares, or 1,700 acres, of soybeans. We've planted winter wheat into more than 120 hectares, or about 300 acres, of soybeans. If we get even emergence and a good stand, we expect to raise 80 to 85% of that winter wheat as a cash crop that we will harvest next summer. We plant wheat in the fields that need physical improvements made next year, like leveling or tile work to improve water drainage. After wheat harvest, we will have time to improve those fields next summer.
We plant a cover crop mix of wheat, clovers and tillage radish into the rest of our standing soybeans. That mix will keep soil in place over the winter while improving organic matter and soil structure. We will plant corn in most of these fields next spring.
Where we are able as time allows, we plan to plant a rye cover crop on this year's corn fields. We will plant soybeans in these fields next spring.
In addition to planting cover crops, we have been getting ready for harvest. We are cleaning out our storage bins, so that by the time we start picking soybeans in late September, all our soybeans, corn and wheat from 2020 will have been delivered to our customers. We are servicing our semitrucks and trailers that we will use to haul grain from the field to our storage bins.
And, my son's family is manning their roadside pumpkin stand. They raise a variety of pumpkins for fall decorations, carving and other uses. Local customers drive up to buy pumpkins throughout the fall.
Before we know it, we will be focused on combining soybeans, which will probably take about a month from the time we start.
This field update is funded by the soybean checkoff. To share or republish part or all of this Ground Work 2021 article, please link to the original article and credit www.USSOY.org.