Throughout the 2021 growing season, USSOY.org will provide regular Ground Work updates from several U.S. soybean farmers around the country. Follow their updates, #GroundWork2021, to learn about their farms and commitment to producing high-quality soy.
Caleb Ragland and his wife Leanne assist with the management of Shady Rest Farm with Caleb's father and his brother in central Kentucky, in the southern U.S. They raise soybeans, corn, winter wheat and pigs, along with their three sons: Charlie, age 10; Cory, 8; and Carter, 5.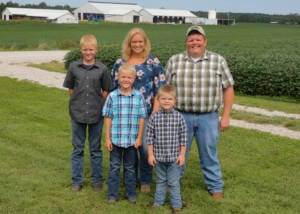 Caleb represents the ninth generation of his family to farm near Magnolia, Kentucky, about 105 km, or 65 miles, south of Louisville, Kentucky; about 195 km, or more than 120 miles northeast of Nashville, Tennessee, and about 320 km, or 200 miles, east of the Mississippi River.
"My family has farmed in this area since 1808, more than 200 years ago," he says. "My great-grandparents bought the farm where we now have our pig barns about 100 years ago. And my 89-year-old grandfather is still active on the farm and helps when he can."
Though Caleb grew up working on the farm, he and Leanne joined the family business full-time when they were married in 2008. At that point, they expanded their pig business to be able to support another family. His younger brother joined the farm in 2012. Today, to support three families, the farm includes about 2,225 hectares, or 5,500 acres, of crops, and 4,000 sows, or mother pigs. They also manage a trucking business that transports their pigs and other commodities to customers. The Raglands divide responsibilities to manage the farm, along with their 25 employees.
Caleb focuses on crop production, trucking and supplying feed for the pigs. The longer growing season in his region allows them to plant winter wheat in the fall, harvest it in the following early summer and then immediately plant double crop soybeans. Then the fields are planted to cover crops before they plant corn the next year.
"We are committed to leaving the ground in better shape than when we started farming it," he says. "We no-till our fields and use cover crops. With our rotation, our ground is protected all year. We want our sons to have the option to farm if they choose, becoming the 10th generation of the family to farm here."
About 40% of their average corn production becomes feed for their pigs.
His brother handles much of the pig production. Shady Rest Farm specializes in managing the birth of baby pigs and raising them until weaning. They sell the pigs when they are 3 weeks old and weigh 5.5 to 6 kg, or 12 to 13 pounds. The male pigs, or barrows, are sold to farmers located in Indiana, roughly 480 km, or 300 miles, north of their farm. These farmers raise these pigs for pork. The female pigs, or gilts, are sold to farmers throughout the U.S. through a genetic company as breeding stock. This means they become new mother pigs for other farmers.
"We are an independent contractor for a pig genetics company, and we produce piglets that will be great mother pigs for others," Caleb explains. "Our family has a legacy of producing livestock for breeding. My great-grandfather and grandfather both raised Hereford cattle breeding stock. My father chose to focus on pigs, but we've continued to raise livestock for breeding and genetics."
Their trucking business delivers all the weaned pigs, both males and females, to their customers. They ensure the pigs are delivered to protect their health and the biosecurity of Shady Rest Farm and their customers' farms.
Caleb's father manages manure application. As chief handyman, he fixes and maintains equipment. Applying the manure from the pigs as fertilizer for the crops requires careful management, as well.
"This is part of the sustainability of our farm," Caleb says. "We raise all the corn we feed our pigs. Then we use all the manure produced by the pigs as nutrients to raise more corn to feed more pigs."
In addition to helping on the farm as needed, Leanne teaches their three sons at home, allowing them to be regularly involved in the day-to-day work on the farm.
"Education and hard work are important to our family," Caleb explains. "We believe there's not a better place to raise kids than on a farm, where they get a wide variety of experiences. It's important for us to work together as a family."
Their hard work helps put food on many tables. Most of their soybeans are raised for seed production, for other farmers to plant the following year. That next generation of soybeans goes to the local crushing industry for livestock feed, or to terminals along the Ohio and Mississippi Rivers for export around the world.
The corn that doesn't feed their pigs becomes feed for poultry and other livestock in their region. Central Kentucky is the home of all global bourbon production, so their corn can also supply this industry. Their winter wheat becomes flour for McDonald's biscuits. And, their culled sows are sold to a company that produces sausage for Cracker Barrel and a couple other U.S. fast food restaurant chains.
"Another part of the sustainability of our farm is working directly with a wide variety of customers to supply high-quality products and managing wisely to make a living," Caleb says.
Caleb and Leanne recently won the American Farm Bureau Federation's Achievement Award, recognizing all their effort and commitment to Shady Rest Farm and the agriculture industry.
Their industry involvement began with participating together in a leadership program in 2011-12. Since then, Caleb has served with the Kentucky Soybean Board and the Kentucky Livestock Coalition. He has been a director for the American Soybean Association for 4 years. They serve on various state and local Farm Bureau committees and other agricultural committees, including a local farm-to-table event in their county.
"Although industry involvement takes time, I have gotten back more than I have given in the form of relationships, opportunities and life-changing experiences," Caleb says. "It's been more than worth the time to invest in the agriculture industry."
Because Leanne did not grow up on a farm, she is especially committed to sharing information about agriculture with others. See what she shares on Facebook @flgirlonthefarm, and on Instagram, @floridagirlonthefarm. In addition, Caleb and Leanne will share regular updates on USSOY.org throughout the 2021 growing season.