Throughout the 2021 growing season, USSOY.org will provide regular Ground Work updates from several U.S. soybean farmers around the country. Follow their updates, #GroundWork2021, to learn about their farms and commitment to producing high-quality soy.
Tim Bardole and his family farm in the heart of the U.S. Midwest. The farm is near the small town of Rippey, Iowa, about 70 km, or 45 miles, northwest of Des Moines, Iowa.
"I am a fifth-generation farmer, and I live on a Century Farm, meaning it has been in our family for more than 100 years," he says. "And my parents live on the Century Farm from my mom's family. We take pride in caring for our soil and water because of our history in this area and because we want to protect our resources for my grandchildren."
Over the years, the farm has adapted to the needs of the family, but they have stayed grounded in both their legacy and the future potential. Tim's dad, Roy, joined his father (Tim's grandfather) Paul farming in 1965. At that time, the farm included cattle, pigs and a variety of crops. In response to economic signals and available labor, the focus shifted over time to focus more on cash crops. Tim's older brother, Pete, joined the farm when he graduated from college in 1989.
Tim earned his degree in agricultural studies and farm operations from Iowa State University, where he also played on the American football team. When he graduated in 1990, he had eligibility to play football for another year. But his grandfather, Paul, was in his late 70s and slowing toward retirement. Roy and Pete needed additional help on the farm. So, Tim returned to the family business, and he has been farming ever since.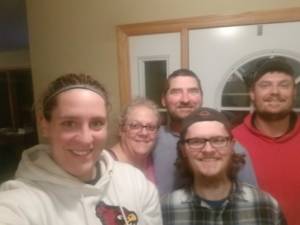 Tim and his wife Lori raised their three children on the farm. Their oldest, Cassandra, teaches 6th grade. Their youngest, Gabe, works in the phone technology industry. But their middle son Schyler, joined the farm 4 years ago, as Tim's dad Roy slows down and moves toward retirement. Schyler and his wife, Lauren, also a teacher, live on the nearby Century Farm belonging to Lauren's family with their two sons, ages 3 and 1.
"We needed the help, but the income from the farm was a bit tight to support another family," Tim says. "Two years ago, Schyler convinced us to build two pig barns to diversify our income and better support another family. Plus, there's nothing better for row crops than pig manure."
Today, Tim, Roy, Pete and Schyler work together to raise soybeans and corn on about 970 hectares, or 2,400 acres. They care for the land and protect the soil with practices like no-till and strip-till, which minimize the amount that the fields are disturbed. They also plant cover crops in the fall. Variable rate technology and split fertilizer applications help them raise high-quality crops efficiently.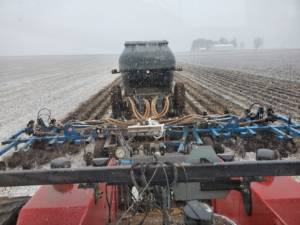 "We are always looking for better ways to do things," he says. "We use as few inputs like fertilizer and herbicide as possible, and only treat for pests when needed. That mindset allows us to be both environmentally and fiscally responsible."
They raise some seed soybeans for a local seed company. The rest of their soybeans go to a crushing facility in Des Moines or to a local grain cooperative to be exported. The corn they grow is delivered to one of the eight ethanol plants within 80 km or 50 miles, of the farm.
In their pig barns, they raise 5,000 pigs at a time from about 18 kg, or 40 pounds, to 125 to 140 kg, or 280 to 300-plus pounds. They are contract growers for a regional food company. The Bardoles own and operate the barns and provide labor to care for the pigs, while the company they work with owns the pigs and supplies their feed.
The pigs come to the farm from farms with nurseries that specialize in caring for very young pigs. When they reach full market weight, most of the pigs go to processing plants near Sioux City, Iowa, about 235 km, or 150 miles, west of the farm.
"We are very careful about the quality of our commodities," Tim says. "My dad traveled quite a bit with his involvement in the soybean industry, and he taught us that we don't want to be at a feedmill or crushing plant somewhere in the world and see bags of foreign material cleaned from U.S. soybeans. And now that I have traveled to meet our global customers, I have seen the importance of quality for myself."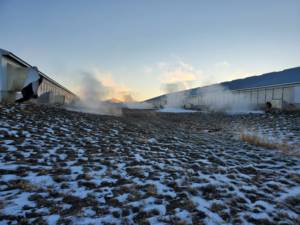 Just like farming and sustainability, industry service runs in the family. Roy served on both state and national soybean checkoff boards, and today Tim does the same. He recently shared more about the family farm, leadership and sustainability in the follow-up to an interview he did with the Wall Street Journal.
To those thoughts, he adds, "When I first joined the state soybean board, I heard an outgoing board member talk about the importance of the soy family. I underestimated how much I would come to value the network of good people, especially other farmers, that I get to work with to improve our industry. It's been both rewarding and informative to learn from other farmers and our global customers."
He believes the family farm will continuously improve and evolve to meet the family's needs.
"Family is very important to us," he says. "I look out the windows and see places featured in the stories my grandfather shared about growing up on the farm. I don't know yet if my grandsons will want to farm, though they do love tractors. But my teenage nephew, Pete's youngest son, has shown potential interest in farming. We want to preserve our history and our soil and water so they can have experiences similar to mine."
Tim will share regular updates from his farm on USSOY.org throughout the 2021 growing season.