After a dry winter, we received quite a bit of moisture in late April and early May. The wet weather forced us to delay planting about two weeks later than we had planned.
We have heavy clay soils, and if we try to do anything when they are too wet, we won't have a crop. We had to wait until soil conditions were right to start planting, which finally happened in the middle of May. Fortunately, we are in the middle of a stretch of dry weather that hopefully will allow us to finish planting before the end of the month.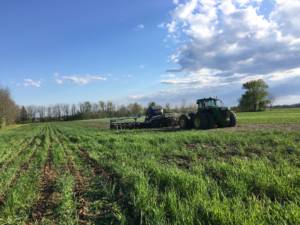 Because of the delayed start to planting, we have adjusted our plans. My son Ben is running the strip-tiller we built and put down fertilizer on as many corn acres as possible. My son Rodman is following him with the corn planter. In many fields, he is planting into the green cover crop, wheat that is about 15 cm, or 6 inches, tall. We decided to plant first to get the crop in the ground, and Rodman will come back and terminate the cover crops with herbicide before the corn emerges.
After getting ahead on strip-tilling, Ben is switching to planting soybeans. The soybeans will be planted directly into fields, with no tillage needed. Some of the fields being planted to soybeans had a mix of cover crops that included radishes, oats, sorghum, rape seed, buckwheat and clover. Again, because we started later than planned, we are planting into the green cover crops, and we will terminate them after we get the crops planted. After planting, we will focus on managing the cover crop and managing weeds.
In the meantime, I continue to haul corn to the local feed mill and loading soybeans when our processor sends trucks to fill. My wife Shirley and I are delivering seed and fertilizer to the field to refill the strip-tiller and planters as needed. We are all putting in long days with the hopes of finishing planting within a couple weeks – and before the end of May.
But regardless of the weather and any additional potential delays, we will plant all of our acres this year. With crop prices strong, we will do everything we can to produce a good crop to earn those prices. The higher prices this year will help us manage risk in the future, when prices return to average levels, tightening our margins.
Our winter wheat continues to look good. Last week, Rodman applied liquid nitrogen fertilizer for the second time to help the crop thrive. It is still a couple weeks away from transitioning from vegetative to reproductive growth stages.
I continue to enjoy calving. I expect a total of 13 calves this spring, and 9 have already been born. One of them will become a bottle calf that my grandchildren will help raise.
The long days, delays and challenges of adjusting our plans are offset by the satisfaction of getting another crop off to a good start this spring.