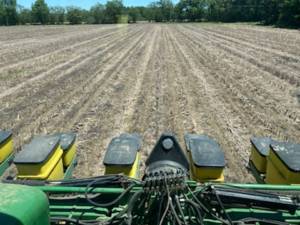 We continue to be a bit behind on spring fieldwork because of rain and wet fields, but we are making progress.
In late April and early May, I finished working all the ground that needed to be tilled before planting because of our crop rotation. In addition to finishing the variable-rate fertilizer applications, our local supplier spread lime on the fields that needed it, which put us in a good position and got us ready to put seed in the ground. We add lime to soils with a high pH to improve soil health and growing conditions for our crops. We pay close attention to the needs of our soil based on soil samples. It is very important to keep our soils well balanced, in good shape, and as healthy as possible.
After what we had hoped was the last cool period of the season passed, I started planting.
We have two different planters. The vacuum planter has seed hoppers on each individual row unit, and it draws in air to move the seed. This planter is much easier for me to load and manage. I prefer to run this planter, and we change the plates and sprockets depending on what crop we are planting. The seed size for each crop is different, requiring different settings for the pieces of the machine that move and drop the seeds. For example, peanut seeds are much larger than soybean or cotton seeds.
The air planter has a central-fill hopper that is pressurized, with a centralized drum that is specific to the seed we are planting. It blows air to move seed. We mainly use this planter to plant our soybeans.
Mother Nature determines when and where we can plant for, so I have been following her lead. By mid-May, I planted about 20 hectares, or 50 acres, of grain sorghum. I immediately followed that with an herbicide application to control weeds. Because fields are wet, I had to wait to plant the other 24 hectares, or 60 acres, of full-season grain sorghum we plan to plant. What has been planted is starting to emerge.
We had hoped to start planting peanuts after the sorghum, but due to field conditions, we were forced to change our plans. We usually have peanuts planted by mid-May. However, we have to turn under the previous year's crop residue to help control pests and create a good seedbed. The peanut ground is softer, fluffier and takes longer to dry out from the deep tillage of the ripper roller we used before tilling with the field cultivator.
Instead, I switched to planting our no-till cotton fields, where the crop residue on top of the ground allows for fields to manage wet conditions better and create firmer conditions that hold up our equipment sooner after rain events. By the middle of the month, I had roughly half our cotton planted, more than 80 hectares, or about 200 acres. It also has started emerging.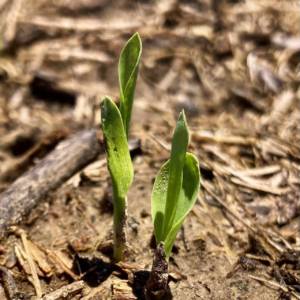 The priority now is to plant peanuts whenever the fields are dry enough. Then, depending on what the weather allows, I will finish planting both grain sorghum and cotton. Soybeans will be planted last, and we have not taken delivery on our single-crop, or full-season, soybean seed yet.
I can plant as much as 40 hectares, or 100 acres, of cotton, sorghum or soybeans in a day if the weather allows and the equipment is working flawlessly. Because the planter has to be loaded more often when planting peanuts, I can only plant about 25 hectares, or about 60 acres, in a day. Hopefully all planting, including peanuts and soybeans, will be finished by the end of May.
Our wheat looks good, and it is starting to turn fast, meaning that it is maturing and moving toward harvest. We expect it to be ready to harvest after the beginning of June.
On a rainy day during the first week of May, I took time to participate in a Zoom call with the European Union consulate to discuss Alabama agricultural trade. It was an honor to be among the group of Alabama farmers promoting agriculture trade overseas to our customers.
While I have been in the field whenever I can, our family has been busy with many other activities, like dance recitals, choir concerts, year-end awards programs at school, and more.
These spring days are long and very full, but it is incredibly satisfying to see both the crops and our daughters grow.