The National Oceanic and Atmospheric Administration (NOAA) released its 2020 National Hydrologic Assessment report which provides an extended forecast for water-related issues. For farmers who are still feeling the impacts of the record levels of participation in 2019, the 2020 weather pattern tracking similar to that of the 2019 pattern is concerning as last year saw farmers experience issues including late plantings, crop yield losses, and transportation issues once harvest was complete.
For comparison, last year's outlook is included, which highlighted more extensive major flooding throughout the Red River, Missouri and Mississippi river systems. A generally wider area of the northern Plains and western Corn Belt was expected to, and ultimately did, experience flooding early in the 2019 planting season. Beyond the transportation sector, which experienced challenges throughout much of the spring and summer period, the impact of this flooding beyond the transportation sector was record-large filings for prevented planting insurance. In the Midsouth, growers of rice, soybeans, corn, and cotton also experienced considerable planting delays or acres were relegated to prevented plantings.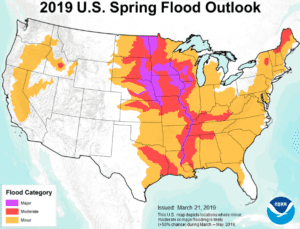 Predictions of flooding in the Upper and Middle Mississippi River, and across the Red River of the North basins in the northern Plains and upper Midwest have been realized. Due to much above normal precipitation in 2019 saturating soils combined with above-normal snowpack, particularly across eastern North Dakota, northern Minnesota, northern Wisconsin, and Lake Superior, the risk of flooding was very high. The higher than normal flow from upstream combined with a wet winter has resulted in the Lower Mississippi River experiencing widespread minor to moderate flooding. The ongoing flooding is anticipated to continue well into this spring, which will hamper planting and transportation flows.