When delays of just days can result in big costs, U.S. soy customers buy for reliable supply
Supply isn't sexy. Steve Jobs isn't remembered for creating a company that was really good at keeping its products in stock. The same is true for the company that holds second place to Apple's title as the world's most valuable company, Amazon, where an inability to fulfill orders spells huge losses. According to Forbes magazine, when the online retailers' website went down in 2013, Amazon lost $66,240 per minute. For U.S. soy, consistent supply is doubly important — it is not only means getting a product to paying customers when it's promised, but it's also a top reason customers purchase from the U.S. over the competition.
U.S. soy has strong rivals in the global market. According to the Global Trade Atlas, Brazil has been the largest soybean exporter in the world since the 2013/14 crop year, with the U.S. coming in second. U.S. Department of Agriculture (USDA) forecasts show Argentina as a growing force as well, with its exports nearly doubling from 4.2 million metric tons (MMT) in the 2017/18 market year to 8 MMT in 2018/19.
U.S. Soy's On-time Selling Point
USDA forecasts 62 MMT, or nearly 65 percent, of U.S. soybeans will be exported in the 2018/19 market year. Customers abroad choose U.S. soybeans in part because U.S. deliveries arrive on time more often than competitor shipments, and timely shipments are crucial to profitable business.
Jay O'Neil, a senior agricultural economist and instructor with the International Grains Program at Kansas State University, has 43 years of experience in the grain business and has traveled to more than 45 countries. During an interview conducted by the U.S. Soybean Export Council at the International Production and Processing Expo, O'Neil explained that most buyers only purchase a 60-day supply of soybeans, so confidence in a consistent, trustworthy supply is critically important.
"Any disruption to that supply disrupts what they are receiving," says O'Neil. "The logistical advantages [the U.S. provides] are a shuttle train system and the rail system that runs 24 hours a day, seven days a week. Everything is a pretty smooth, efficient, quick-operating system, and that is a great benefit to the customer."
Those benefits are significant. HighQuest Analytics surveyed foreign soybean importers and discovered several reasons predictability and on-time deliveries matter to them:
Demurrage — a fee charged by the owner of a vessel if product is not loaded or discharged on time.
Storage costs associated with delays at ports.
Sales and inventory complications when shipments are delayed.
Uncertainty from fluctuations in currency exchange rates and spot prices when delays occur.
The U.S. has the most dependable delivery. A separate HighQuest survey of Chinese buyers tracked the maximum delay times of shipments. Shipments from Brazil were as much as 28 days late; Argentina, seven days; and U.S. shipments, just three days.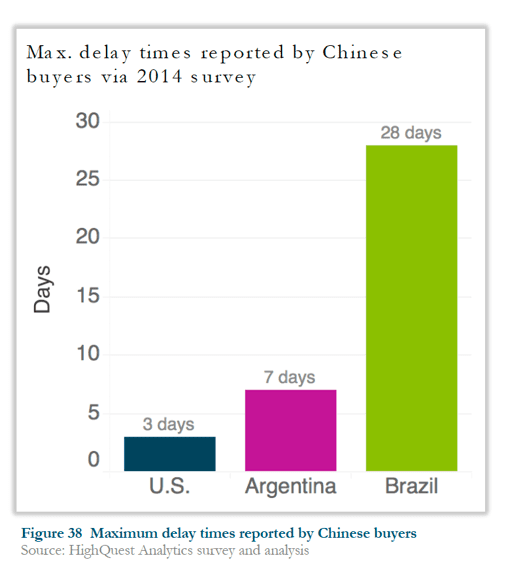 Because of the reliable U.S. transportation system, international buyers will choose soybeans from the U.S. over other origins. The near-guaranteed delivery time of U.S. soy saves buyers from extra costs and gaps in their supply chain.
U.S. Soy's Largest Competitors Keep on Truckin'
The complex U.S. transportation system has many different paths to market. For beans bound for export, however, this path leads to the coast as quickly and efficiently as possible. And how they get there really matters.
A key competitive advantage of U.S. soy's transportation system is the rail and inland waterway infrastructure.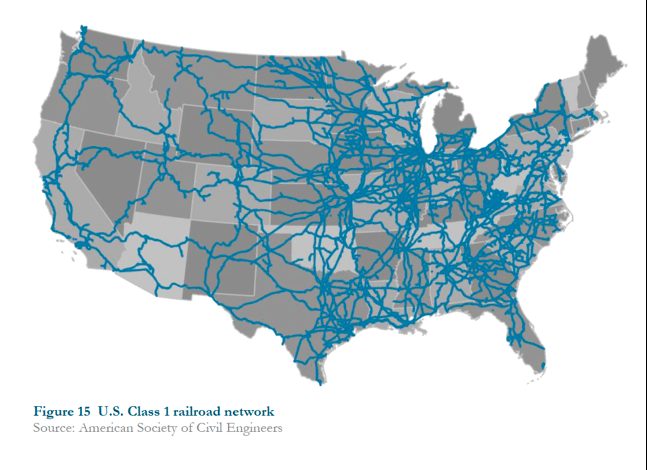 Barges and rail efficiently move large quantities of soy — much more so than by truck. In fact, one barge transports the equivalent of 58 semi trucks.

Barges and rail make up a larger share of the U.S. soybeans' journey than in other countries. In Brazil a soybean spends 65 percent of its journey to export location on a truck, and in Argentina, that number is 84 percent. Yet in the U.S., only 11 percent of soybeans' trip is by truck, resulting in significant time and energy savings.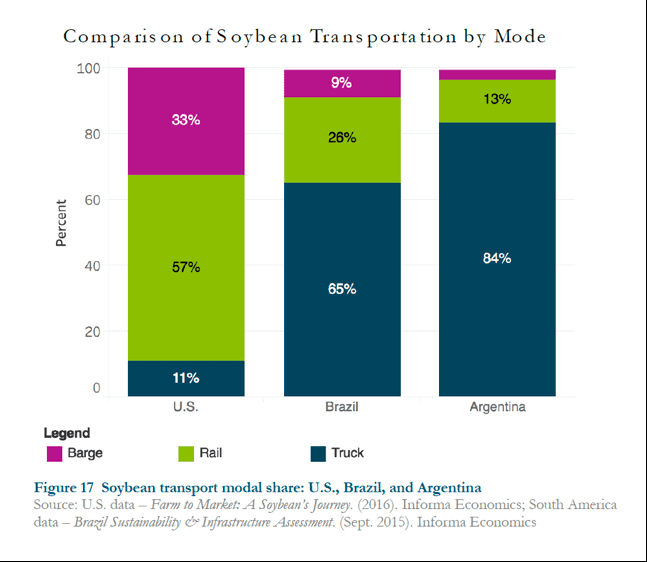 Although the U.S. infrastructure system is currently superior to that of foreign soybean-exporting competitors, the competition for export markets presented by Brazil and Argentina is real. Extensive railways, well-maintained highways and navigable waterways may not be sexy, but if U.S. soy were to lose its transportation advantage, foreign importers could change their preference for U.S. soy and buy from processors outside the U.S.