News wires reported midweek (of the week ending April 25, 2020) that the Chinese government is preparing to buy more than 30 million tonnes of grain, fiber, and oilseeds. The plan is seen as a measure intended to achieve two end goals – 1.) Boost domestic supplies to help prevent any future disruptions in China's supply chains, and 2.) Help to meet targets established under the Phase One trade agreement signed with the U.S. on January 15. Of the total, soybeans are expected to reach about 10 million tonnes while corn (20 million) and cotton (1 million) are the other key crops.
Coinciding with the news has been increased purchases of U.S. soybeans from Chinese buyers. According to the U.S. Department of Agriculture's (USDA) Foreign Agricultural Service's (FAS) daily reporting system, private exporters have recently sold more than 470,000 tonnes of U.S. soybeans to ship from U.S. shores by the end of August. This has provided a modest boost to the market sentiment after China had been noticeably absent from the U.S. soybean market in recent weeks. According to weekly FAS export figures, outstanding sales of U.S. soybeans bound for China in the current (Sep. '19-Aug. '20) marketing year fell to just 63,000 tonnes as of March 5th. That figure has crept higher in recent weeks to reach nearly 285,000 tonnes in latest figures as of mid-April, and the additional purchases will provide a boost to that figure in upcoming reports. The following chart highlights the stark contrast in unshipped sales on account of China beginning the same week last year. However, it is important to remember that sales were abnormally strong last April as trade talks between the U.S. and China continued to gain momentum and China committed to buy 10 million tonnes of U.S. soybeans at the end of February.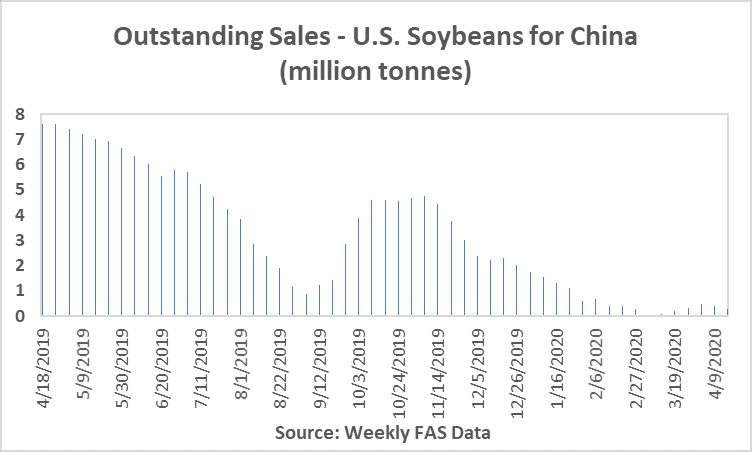 As concerns continue to linger around the globe from measures to flatten the curve of the novel coronavirus and its illness COVID-19, this latest news serves as a reminder to foreign buyers of the market opportunity that is available from the recent drop in commodity prices. Despite the underlying economic uncertainty, the U.S. farm and supply chains remain open to ensure the availability of quality, sustainable U.S. soybeans to end-users around the world.