According to an announcement made on China's agriculture ministry's website, five new varieties of genetically modified (GM) seeds have been approved for shipment to China as ongoing trade talks between U.S. and Chinese officials continued early January in Beijing. Amongst the new varieties approved for shipment into China were two new soybean varieties. These were the first new approvals of GM seeds since June 2017, when new genetically engineered corn and soybean varieties were last permitted.
The move has been viewed as a sign of good will as the two nations work towards a new trade resolution. Chinese population growth and expansion in livestock herds have led to increasing soybean and other oilseed imports in recent years. According to the U.S. Department of Agriculture's (USDA) latest official estimates, Chinese imports of soybeans have grown from 13.2 million metric tons (MMT) in the 2000/01 marketing year to peak at 94.1 MMT estimated in 2017/18. The chart that follows plots USDA's latest estimates of Chinese soybean production and imports and illustrates the growing reliance on imports by the world's largest soybean importer. The expected decline in imports forecast for the current marketing year of 2018/19 reflect greater imports of alternative oilseeds along with reductions in domestic hog herds following recent Asian swine fever outbreaks.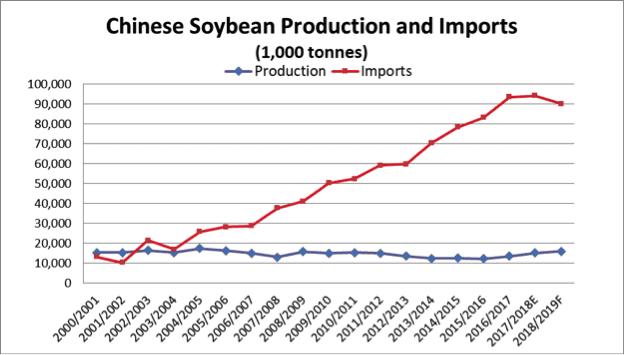 The recent announcement comes with wide-spreading implications, as these new approvals will afford U.S. farmers with more choices when deciding on their seed options for growing their crops in the coming years. Previous roadblocks into the Chinese market have limited demand from farmers for these seeds due to fear from U.S. commercial grain companies should have these unapproved seeds be found during testing in Chinese ports. Now that these varieties have been approved by top global soybean importer China, merchants will have fewer barriers to consider when shipping U.S. soybeans.