Brazil's attaché office issued its latest Oilseeds and Products Update in late January. In the report, the post noted that Brazilian farmers were estimated to have sown a new record soybean area of about 36.1 million hectares this past fall.
Brazil Soy Farmers Face Weather Challenges
Ironically, the early onset of rains that allowed for a quick start to plantings also resulted in a premature ending of moisture before the plants could be fueled in their key reproductive pod-filling stages. As a result, the post has lowered its estimate of the 2018/19 soybean crop to 115.5 million metric tons (MMT) versus the U.S. Department of Agriculture's (USDA) official February World Agricultural Supply and Demand Estimate (WASDE) forecast of 117 MMT. If realized, this would be the second largest crop in the past three years, but would be well off last year's crop, estimated by the USDA at 120.8 MMT.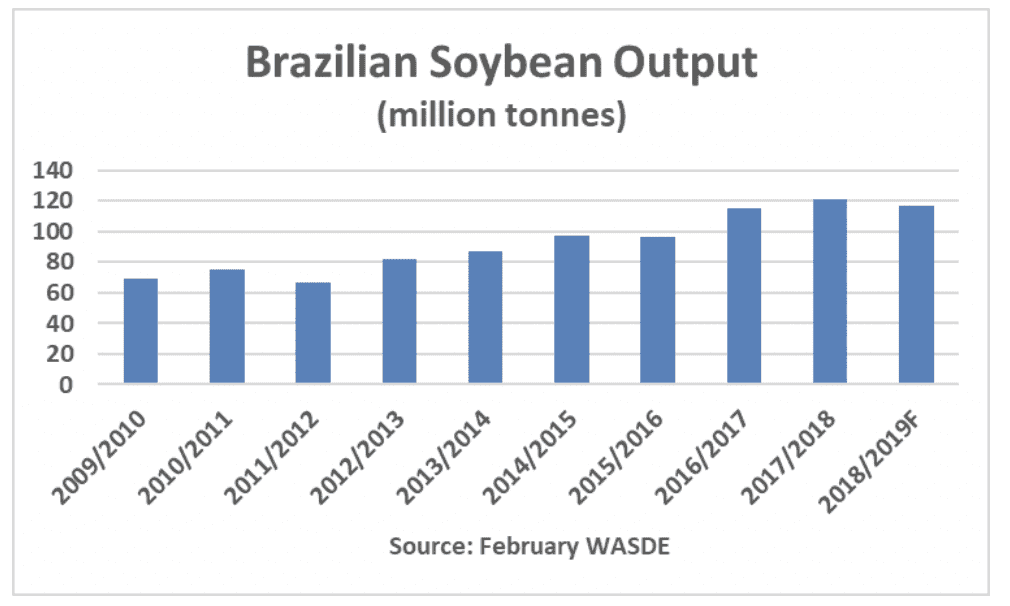 Brazil's Supply Chain Poses Additional Challenges
In addition to the modestly smaller crop this year, local soybean farmers are facing the annual issues that seem to plague the Brazilian soybean supply chain as transportation, and not weather, becomes the greatest challenge.
Last May, hundreds of thousands of truckers went on a strike that lasted eleven days before Brazil's congress eventually put together a list of concessions that included setting a price floor that guaranteed freight rates for truckers. According to the post, uncertainty around freight costs are leading domestic buyers to offset some of their risk through lower prices to farmers for their soybeans.
This uncertainty may lead Brazilian farmers to rely more heavily on futures and currency movement for higher prices at the farm gate as the country's export outlook is not so optimistic following record shipments of 84 MMT in Feb-2018/Jan-2019. The post estimates that Brazilian soybean shipments will slip 14 MMT to reach 70 MMT in the current Feb-2019/Jan-2020 marketing year. With lower exports forecast, Brazil's domestic crush market is expected to see increased soybean processing this year as the Brazilian government looks to make good on promises for larger biodiesel mandates.