The U.S. Department of Agriculture's (USDA) Foreign Agricultural Service (FAS) attaché Post released its annual reports focused on China's soybeans – arguably the single most important foreign market in terms of U.S. demand. The forecasts outlined below are those of the Post and may differ from the official ideas of USDA's World Agricultural Outlook Board, which is responsible for the monthly forecasts issued in the World Agricultural Supply and Demand Estimates (WASDE) reports that will include for the first time in May the agency's initial looks ahead to the upcoming 2020/21 marketing year.
According to the Post, China's swine sector is expected to slowly recover from the impact of African Swine Fever (ASF), making the Post seemingly optimistic as total oilseed demand is seen rising by 2% to 148 million metric tons (MMT) in marketing year (MY) 20/21, up from an estimated 145 MMT in MY19/20 and on par with MY18/19 demand. Driven by increased swine feed consumption, total protein meal feed use is forecast up 2% and soybean crush volume is forecast up 3% in MY20/21 versus the previous marketing year.
In March 2020, China's Ministry of Agriculture and Rural Affairs (MARA) stated that the threat from ASF has been greatly reduced. Driven by policy and market forces, breeding sow stocks had showed recovery for four months in a row, from November 2019 through February 2020, rising by 8% in February compared with last September. In February, the number of newborn piglets in scaled pig farms increased by 3.4% over the previous month, the first increase since September 2019.
The Post projects that China's soybean imports will reach 86 MMT in MY20/21, based on a recovery in crush volume for animal feed as the swine herd rebuilding continues. The attaché's MY20/21 forecast is up from an estimated 84 MMT in MY19/20 and 82.5 MMT in MY18/19. As has been well documented, China's soy imports were down in 2018 and 2019 due to reduced feed demand attributed to lower swine herds from ASF as well as the additional Chinese tariffs on U.S. soybeans. During the second half of 2019, the Chinese government implemented an informal tariff exclusion process to permit some state-owned and private companies to purchase U.S. soybeans free from the additional tariffs. On February 18, 2020, China announced a new round of exclusions from the additional tariffs, with soybeans listed as an eligible product for applications by individual importers. The application period opened on March 2, 2020 and, although early purchases were scant reflecting China's focus on cheaper new-crop Brazilian soybeans, there have been recent improvements as weekly FAS sales data showed sales of U.S. soybeans totaled 618,099 tonnes in the week ending April 23.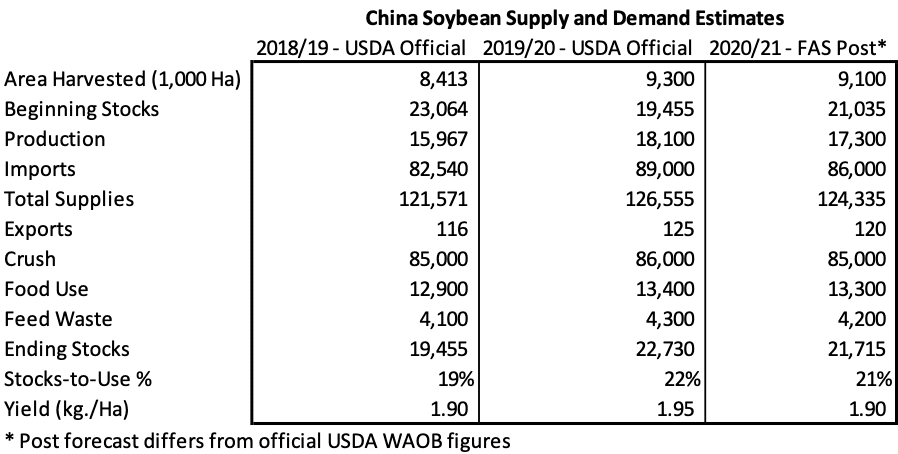 According to the Post, China's soy crush is forecast to reach 85 MMT in MY20/21 after falling to an estimated 82.5 MMT in MY19/20. The decline in soybean crush volume in MY19/20 is attributed to lower feed demand credited to smaller swine herds from ASF, as well as the ongoing effects of the COVID-19 outbreak. Measures taken to prevent the spread of COVID-19 have resulted in temporary bottlenecks at the ports and have led to work stoppages at both crushing plants and in feed factories. The attaché sees soybean crush recovering in MY20/21 as the swine sector rebounds from ASF and crush operations normalize following the initial onset of COVID-19. In the attaché's opinion, China's soybean crush capacity, estimated at 140 MMT annually, continues to be underutilized.
Reports in the trade have surfaced that China has been returning their interest towards U.S. soybeans. Following a substantial program which featured new-crop South American beans, there is optimism that China is making strides towards making good on promises for increased purchases of U.S. agricultural products under the Phase One trade agreement. This is a viewed as a positive sign in the market as China returns from its own measures to curb the spread of the novel coronavirus that began earlier this year. Other buyers of U.S. soybeans should remain conscious of China's demand and its ability to support the global soybean market.