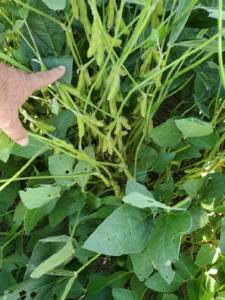 Dry weather has continued in my region of the U.S. Midwest. Outside of a few small pop-up rain showers, we have had very little moisture, which is hard on the crops. Temperatures have been good for growing, and my crops held up surprisingly well until just the last few days.
I continue to credit the soil structure created by no-till for holding what little moisture we have and keeping it from evaporating because of the residue on top of the ground. The ability of the soil structure to hold water makes it available to the crops.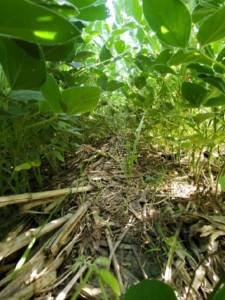 My soybeans are growing reasonably well for the conditions, if we get needed moisture soon. The lower pods are starting to have seeds fill, while higher nodes on the plants continue to bloom and set pods. A few velvetleaf and waterhemp weeds have escaped through the soybean canopy, but no options are available to control them. I will take this problem into consideration when making decisions about weed control in those fields next season.
The soybeans look better than my corn, but the corn ears are set and the kernels are filling.
My third cutting of hay, done in early August, had very high quality. But because of our lack of rain, the yield was only 50% of average.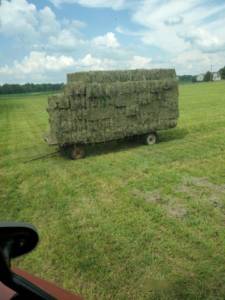 In all the crops, I continue to scout for pests. For bugs, I look for both the pests that may damage my crops and the beneficial insects that actually prey on the problem pests. I take populations of all insects into consideration, along with the weather and yield potential, when making decisions about controlling insects. Usually I conclude that an insecticide treatment is not needed. I also scout for disease, particularly in the corn. However, we are getting to the point in the season where a fungicide application is no longer worth the cost.
I expect that my harvest will start in mid-October. While waiting for the crops to mature, I have several projects I continue working on.
I bought more feeder cattle, and I continue to work on the feeding pad for them near the barn. Because I have raised the area where the pad sits, I have to adjust drainage in the area to continue to protect water quality. I have created new catch basins, or low spots lined with stone, that catch runoff from higher ground during heavy rains. The basins hold and filter that water, and then direct it toward drainage without eroding the topsoil. The basins also help manage manure so I can store and then spread those nutrients effectively in my fields.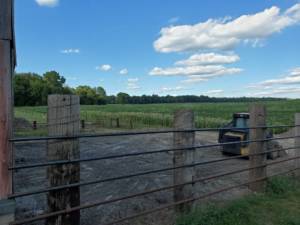 The combination of these changes and dry weather allowed me to do additional tile work. The land in my area of northeast Indiana, in the U.S. Midwest, is covered with rolling hills. The contour of the land allows water to drain naturally, with just a few exceptions, so tile systems in this area just provide a bit of drainage help in the areas where the land can't handle the water on its own. I tiled one of those spots this summer. All this work aids drainage, prevents soil erosion and protects water quality.
These projects all improve my farm and support its sustainability. I want to do the right thing for my land and resources. I applied for several government programs that support conservation practices like those I use. Unfortunately, this year I was not accepted into any of the government programs I expected to get funding for. While I won't get any of the funding I planned to have to support these efforts. I will continue to instill these practices even though it will be detrimental to the bottom line. It's the right thing to move forward from a sustainability standpoint for resources and the environment.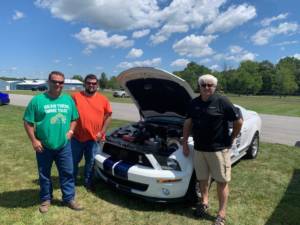 Another way farmers contribute to improving sustainability is producing feedstock for renewable fuels. My son Glen participated in an event called the Indy Airstrip Attack, a .8-km, or .5-mile, side-by-side racing event, sponsored in part by the Indiana Corn Marketing Council. Glen raced a Shelby Cobra that runs on a fuel blend of 15% ethanol, a renewable fuel made primarily from corn. His car reached speeds of about 265 km per hour, or 165 miles per hour, in that short distance. I even got to ride along for one of the races!
This summer, I have also been working on cleaning up in and around the buildings on the farm. While I generally keep things pretty tidy, I've been sorting through storage piles, painting, trimming branches and maintaining the yard in preparation for Glen's wedding. He plans to get married on the farm on October 10. I know that often many things need to get done all at once, especially as fall approaches, so I am spreading out the workload to be sure the farm looks its best for that celebration.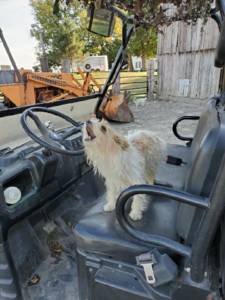 And I'm not the only one who is busy. My wife Kim teaches middle school language arts. She returned to school in mid-August, managing both in-person and virtual classes for her students at the same time. It's a lot of work and a big adjustment for her to teach students of that age both ways, but she is working to provide a solid education for all situations and comfort levels of her students and their families during the COVID-19 pandemic. As of August 24, her school has COVID-19 cases in every grade.
Summer days fill quickly with a wide variety of projects. Fortunately, the help lets me know when it is time to quit at the end of the day and go for ice cream.