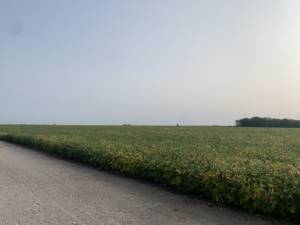 We have been getting ready to start corn harvest in mid-September. And the soybeans appear to be on track to be ready to harvest the first or second week of October.
August was very dry in our area of central Illinois, in the heart of the U.S. Midwest. However, because we had plenty of rain earlier in the summer, our crops didn't get stressed. Whenever I checked the soil, there was still some moisture 30 cm, or 1 foot, deep.
The dry weather may have cut our yields a bit, but the weather has been drier in many regions. The markets have been trying to figure out how the summer weather has impacted yield throughout the U.S., and so soybean prices have been bouncing slightly higher.
Our soybeans have good pod counts, with lots of 3-bean pods. But it isn't hard to find 4-bean pods, as well. The pods are just finishing filling, and the plants are still green, though they are just starting to show signs of turning yellow. As expected, our shorter-season varieties are farther along. We have some Group III soybeans and some Group IV soybeans, and it will be interesting to see how their yields compare based on the amount of rain we got while the pods were filling.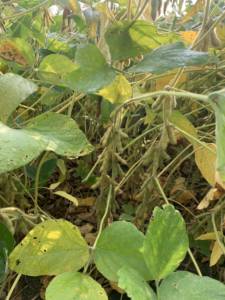 Our corn is drying down, and once the kernel moisture content reaches the low 20% range, we will start harvesting. We dry corn on our farm as needed to the appropriate moisture for storage, though we want it to get as dry as it can in the field.
While we wait for the corn to dry, we have been doing as many little jobs as possible to make sure harvest goes smoothly. We've made sure tractors, trucks and trailers are ready to go, greased, oiled, tires in good shape, and more. We've been training the help we hire during the fall to run the machines as needed. We got a broken drainage tile fixed, and then reseeded the field waterway that washed out because of the broken tile. And countless other little things.
Once harvest starts, our focus will be on getting the crops out of the field in good condition. Everyone working with us has a job, and I usually run semis, hauling grain from our fields to their next destination. We will store some of our crops on the farm, but we have also sold some of our crops, and some of them will move from the field almost directly to the next link in the supply chain.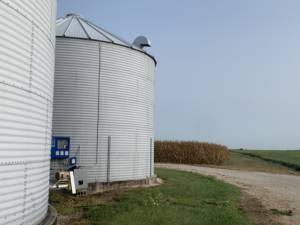 We have sold crops – both corn and soybeans – to a variety of places. Some has been sold to our local grain elevator, located about 11 km, or 7 miles, from the main farm. We usually end up delivering some of our crop to ADM in Decatur, about 51 km, or 32 miles, away. And this year,  we will even deliver some of the crop to the Mississippi River at St. Louis, more than 190 km, or 120 miles, away. The prices offered for some of the crop at the Mississippi River were enough higher than local prices to offset the additional transportation costs.
Despite the recent hot, dry weather in our area, we still expect a good harvest.