The first half of April was rainy and cool, with overnight lows near or even below freezing. That keeps the soil from warming up and the fields from drying out so we can plant. Fields have been wet because of the rain. However, this week we expect temperatures to warm up to between 60 and 70°F, or between 15 to 20°C. My soybean seed is in the planter, and we've tested the equipment to be sure it will work smoothly. As soon as the weather allows, planting season will be underway.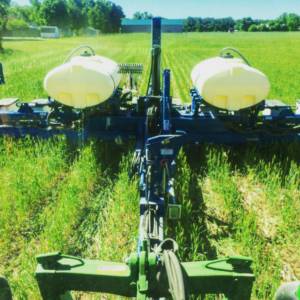 I'm not the only farmer in my area ready to start planting as soon as possible. About 95% of the corn seed I've sold for my seed business has been delivered to my customers, and we've started delivering some soybean seed to other farmers, as well.
My cover crops, which are either a mix of barley, radish, and clover or barley, radish, vetch, and clover, look good right now. In my irrigated fields, we watered the cover crop last fall to ensure that it emerged evenly. Fields without irrigation didn't have a very good stand last fall and during the winter, but this spring they have improved and are growing well now. Those plants have been protecting my soil, and I will plant my soybeans, corn, and other crops directly into them.
Then, anywhere from a few days to a week or so after planting, I will use glyphosate to desiccate the cover crop. That vegetation will continue to protect the soil as the new crops emerge and help with weed control and moisture retention in my planted crop.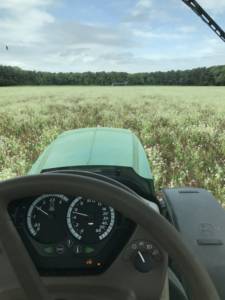 I also have fields of winter barley and winter wheat that are growing well. I grow wheat and barley, and then sell it as cover crop seed to other farmers through my seed business. If any isn't sold as seed, it goes to a regional flour mill. 
The barley has started heading, meaning the seed ears are emerging and filling out to show above the crop. It should be ready to harvest in late May or early June. 
The winter wheat is jointing, which means the growing point has emerged above ground. While some leaves have been above ground all winter, the growth points stayed below ground to be protected from the weather. The wheat will grow through the spring and early summer and should be ready to harvest in late June or early July. 
Typically, at this time of year, we would be hauling commodities like corn and soybeans for other families as they sell crops to local grain elevators to be moved into the supply chain.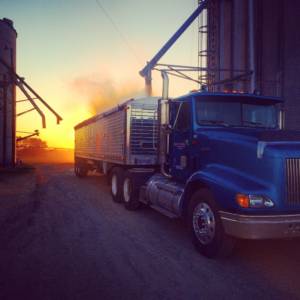 We usually haul grain with two semi-trucks five days a week. But because commodity prices have fallen significantly during the COVID-19 outbreak, many farmers are choosing to keep storing their crops a bit longer in the hope that prices will improve. We've just used one truck a few times a week to help farmers haul grain during the past month or so. 
That means work has been a bit slower than usual. But that will change quickly as planting gets underway.