Harvest is underway in my area of the U.S. East Coast. At the beginning of September, I had to wait for a couple combine parts. But once I installed them and the machine was running, we got started.
Because of the weather we have had this season, much of the work will need to be done at the same time. We will probably end up switching the combine between corn and soybeans more than we like, but it's important to get the crop out when conditions cooperate.
We will start picking dryland corn. At the beginning of September, a sample of that corn showed that the kernels were at 22% moisture. I aim to pick corn when the moisture levels are 18 to 20%. That's the sweet spot for me to pick the crop well and minimize losses or dockages when it is sold. Most of my corn is delivered from the field to a feed company to become poultry feed.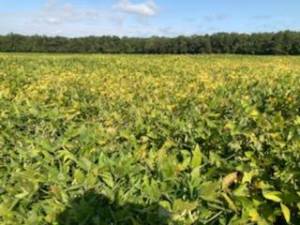 My early-planted soybeans have just started to senescence, or lose their leaves and turn yellow. At that point, the soybeans in the pod are mature and begin drying down. I expect these soybeans to be ready to cut by the second week of October. We pick soybeans at moisture levels of 13 to 13.5%, so they store well. Most of my soybeans are also delivered from the field to the nearby feed company to become poultry feed, as well.
Once the soybeans are ready to harvest, we will switch the combine from a corn head to the head we use for soybeans and small grains. My goal is to finish the dryland corn first, but weather conditions dictate our priorities during harvest. The soybeans don't wait in the field as well as corn does. But if storms or wind cause the corn stalks to fall over, then it must be picked.
My full-season, irrigated corn won't be ready to harvest until sometime in October. Timely rains in late August allowed me to use less irrigation. The hope is that we won't need to irrigate any more this season, but if the weather remains hot and we get another dry week, we may need to irrigate those fields a bit more.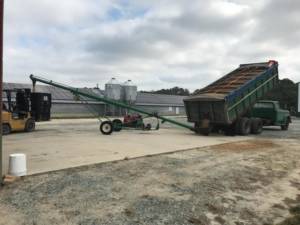 Then, likely after harvesting irrigated corn, the double-crop soybeans will be ready to harvest. Currently these soybeans are setting pods.
The early lima beans will also be harvested soon. The vegetable company I grow for will come to the field when they determine my fields are ready and it fits their schedule. All they ask of me is to provide my pesticide application records for the field. They will come with a pea/lima bean harvester and pick the fields themselves.
The machine they use has a head similar to the head used to harvest small grains, but the drum inside the combine shakes the lima beans from their pods. The lima beans fall through to be collected, while the pods are deposited in the field. Lima beans are harvested when they are much greener than commodity crops. If they are too dry after they are picked, the processors can soak them in water to rehydrate and turn them green again.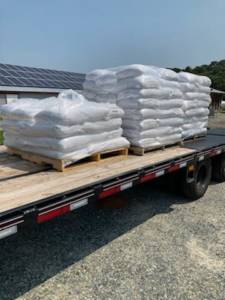 For my seed business, I have been selling and delivering cover crop seed. Sales are much slower than last year, likely for a few reasons. Fewer cost-share programs are available for cover crops this year. And because of the COVID-19 pandemic, meetings I host for my customers or that I attend and connect with others have been cancelled. However, some of my customers are currently flying cover crop seed over their standing corn. The cover crops will get established before harvest, and remain until next spring.
Our first son arrived on September 5th, 2020. I went from picking corn to meeting my wife, Kate, at the hospital for his arrival. Between a newborn and harvest, the next few months will be hectic.