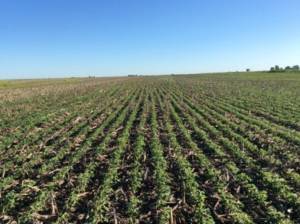 We've reached the time of year when we are just a week or so away from having the bulk of our work done for this crop season. So far, the soybeans and corn are looking good, but the weather will have a lot of influence on the results. For example, we recently got a heavy 7.5-cm, or 3-inch, rain that came quickly and delivers more moisture than we need at once.
We will likely apply herbicide for weed control in our soybeans in the next week or so. We have been scouting these fields about once a week, and we haven't seen any weed problems so far.
We finished applying herbicide for weed control in our corn on June 8. My son Keaton sprayed all those fields, so he had the chance to scout every acre of corn from the sprayer cab.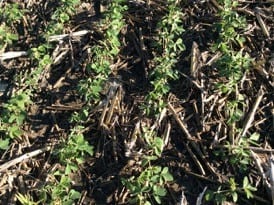 Once the soybeans receive post-emergence herbicide, we will be ready to watch the crops grow for a couple months. A few more timely rains will produce a good crop.
As the crops get bigger, we will scout a bit less, unless we hear of problems in our area. However, because crop prices are low, we aren't likely to spend any more money on this crop, even if pest problems show up.
Keaton and I also butchered a pig for meat for the whole family. We typically do this a couple times a year. We cut boneless pork chops, tenderized ham steaks and ribs. We make ground pork, and we cure our own bacon.
Thankfully, most of the pork processing plants in the Midwest have re-opened following temporary closures due to the COVID-19 outbreak. They are operating at 100% or more of their capacities, but there is an enormous backlog of pigs that they are working through. That means we are still keeping pigs on our farm longer than expected.
We continue to feed our pigs much different diets that provide less energy and limit their growth. For example, in the barns I care for, the pigs should have gone to market a few weeks ago. They are just eating ground corn now, and we have removed soybean meal from their rations to help them just maintain their current size. Because of this, we have not had to euthanize any of our pigs, but we know it will take some time before we return to our "normal" system for raising pigs.
Minimizing investments in our crops and changing pig care practices show how we have adjusted to the challenges the coronavirus pandemic has created for agriculture. It has not been easy, but we are working through them.