American Soybean Association & United Soybean Board vision of soy export group proves fruitful as U.S. Soybean Export Council reaches big year and even bigger goals!
What happens when a devoted policy organization and an innovative research and promotion board collaborate to create a third soy group devoted to export promotion? In just 15 short years, a lot!
The U.S. Soybean Export Council (USSEC) was ideated by farsighted soy leaders within the American Soybean Association (ASA) and the United Soybean Board (USB) with an aim to create preference, drive value, and enable market access for U.S.-grown soy worldwide. Since its inception in 2006, the organization has since matched—and surpassed—its mission, today enabling reliable access to nutritious and sustainable U.S. Soy for human consumption, aquaculture, and livestock feed in more than 82 nations. All that soy—approx. $25.7 billion* in value in 2020/21—being transported and shipped internationally is supporting global food industries and the U.S. economy!
Monte Peterson, a U.S. soybean farmer from Valley City, North Dakota, and current chairperson of USSEC, has been heavily involved with all three soy organizations. "Having personally engaged with global customers and stakeholders on export promotion trips and virtually post-Covid, what USSEC does to advance global nutrition and food security and the competitiveness of the food industry with soy is impressive! It makes you appreciate the vision and wisdom of farmers and staff who prioritized investing in international markets 15 years ago! They knew developing and sustaining global export markets for food, feed or oil use would be critical to soy's long-term impact," says Peterson, who also currently serves on the ASA board.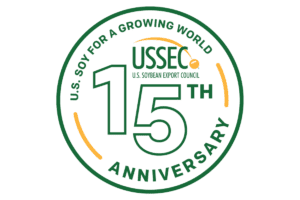 To mark USSEC's 15th anniversary, the three soy partner organizations—ASA, USB, and USSEC—share 10 compelling reasons U.S. Soy's years are significant for both soy and the U.S. economy!
60% of U.S. Soy is exported internationally, making it USA's #1 food and agriculture export!
Doubled! U.S. Soy exports have doubled in 15 years to over 69 MMT vs. under 37 MMT
Tripled! Exports to China have tripled with 35+ MMT vs. 11 MMT
100 million-plus! A cumulative 100 million metric tons of U.S. Sustainability Assurance Protocol (SSAP)-verified shipments have been exported since program launch in 2014.
15 months during COVID-19 (March 2020-May 2021), USSEC pivoted to digital marketing, engaging 61,407 customers and stakeholders at 522 virtual events to drive demand for U.S. Soy.
Five U.S. Soy Excellence Centers (Egypt, Honduras, Thailand, Nigeria, and a sister program in China) are emerging to enhance expertise and capacity around the world and thus enable local country visions for health and nutrition in collaboration with their local food and agriculture industry and stakeholders.
6x growth in exports to Egypt at ~2.7 MMT vs. 461,000 MT
4x growth in exports to Colombia at ~1.5 MMT vs. under 360,000 MT
50x growth in cumulative exports to Vietnam, Pakistan, Bangladesh at 3+ MMT vs. 60,000 MT
10x growth in cumulative exports to Ecuador and Peru at 770,000 MT vs. 71,000 MT in 2005
The soy industry is proud of USSEC's efforts to build invaluable partnerships with the World Initiative for Soy in Human Health, USA Poultry and Egg Export Council, U.S. Meat Export Federation, Qualified State Soybean Boards, and Specialty Soya and Grains Alliance, in addition to several global and local industry associations present in the countries in which it operates – to meet the need for soy and value-added soy products. These partnerships enable USSEC to advance nutrition and food security, environmental sustainability, and livelihoods around the world while enhancing the competitive advantage of the food, feed, consumer goods, retail, and other user industries of U.S. Soy.
*USDA FAS 2020 calendar year data